If you are Asian, there's a very good chance that you already know what BB Creams are — after all, they have been all the rage in Korea, Japan, and China for the past few years. So if you're familiar with BB Creams, please feel free to skip the next section.  🙂
What is a BB Cream?
BB Cream, or Blemish Balm Cream, first originated in Korea when a famous actress underwent laser skin surgery and used a German formula of concealer+regenerative/protective cream during her recovery…and continued to use it well after her skin had healed because she liked it so much.
Soon, other celebrities began to use it too, and the word spread to the rest of the population as various cosmetic companies adapted the concept and started to produce their own formulas.
The producers of BB Cream claim that it is suitable for all skin types and advertise that a single tube of BB Cream can replace moisturizer, sunscreen, and foundation from your daily beauty routine.
Personally, I like to tell people that BB Cream is a happy medium between a foundation and a tinted moisturizer, with added skin-enhancing benefits.
And since there are sooooo many different types of BB Creams available on the market these days — all with different textures, finishes, and skin-protecting/healing properties — I'm sure that you can find one to fit your needs once you've done some research.

Just some of the BB Creams offered by MISSHA, a popular Korean cosmetics company
The only downside to BB Creams? Since all the major manufacturers are East Asian, there is usually only one or two shade available for each line. Sure, as the product oxidizes and settles into your skin it tends to blend in, but you can't deny that it would not work well with very fair or darker-skinned women.
(BUT, as the rest of the world is finally starting to catch on to the BB Cream trend — with major retailers such as Sephora even carrying a couple of BB Creams now — I can only assume that the cosmetic companies will begin to add more shades to their lineup. In the meantime, if you would like to find out how to add some additional color to your BB Cream, read what my friend Irene had to say over at Korean Beacon.)
For more information on BB Creams, you can check out Squidoo's "What is BB Cream and why are Asian women crazy about it?" This thread from Soompi also has tons of information on BB Creams, as well as links to reviews from real users. And if you Google "BB Cream" or do a search on YouTube, you can also find tons of reviews, pictures, and videos of the various BB Creams on the market.
My Experience with BB Creams
Remember how I gotten horrible acne when I was pregnant with Claire? Well, when my skin did not immediately clear up after birth (like all pregnancy symptoms, it took a few weeks for my body to recover), my mother got me a tube of BB Cream from our local Korean market, telling me that she had heard great things about BB Creams and that some can help clear up acne.
I had heard about BB Cream before, but I was comfortable with my foundation and so hadn't thought to give it a try. But once I did, I was hooked.
Like mentioned above, BB Creams provide the user with coverage (some more than others), skincare benefits, and SPF…all with the convenience of a tinted moisturizer.
Once my first tube ran out, I set out to get another, but discovered that the one that my mother had gotten me had since been discontinued.  🙁  I went to the good ol' interweb to find another BB Cream, but found myself utterly overwhelmed as there were sooooo many different brands, lines, and labels.
I have tried four different BB Creams (all from different companies) since then, and here are my thoughts on them…
MISSHA M Perfect Cover BB Cream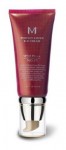 In a nutshell: SPF 42; medium, buildable coverage; brightening and anti-wrinkle properties
Along with Hanskin, MISSHA is one of the top manufacturers of BB Cream in Korea. This particular BB Cream is one of the most popular from the MISSHA brand, and that is what drew me in.
Perhaps the best part about this BB Cream is that it comes in two shades: No. 21 Bright Beige, and No. 23 Natural Beige (the higher number being the darker color). I got the lighter shade because my skin tends to be naturally pale, and the color was perfect on me. Both are available for about $17 on Amazon.
I liked this BB Cream, but I didn't love it. I know that it is one of the most popular BB Creams for a reason — because most people really seem to LOVE it — but as someone whose T-zone becomes an oil field by the end of the day (especially in the summer), I would have preferred a bit more oil control.
Lioele Beyond Solution BB Cream
In a nutshell: medium, buildable coverage; natural ingredients such as vegetable collagen to help smooth the skin
Another very popular BB Cream that is targeted to the younger crowd who are looking for a healthy glow with a dewy finish.
Initially, I liked this one a bit better than the MISSHA M Perfect Cover…but I have to say that in my case, the coverage seemed to disappear after about the 5th hour of wear. This BB Cream also does not have an SPF which is a big "con" in my book.
Still, it is another favorite in Asia and you can purchase it for $18 through Amazon.
SKIN79 Super+ Beblesh Balm BB Cream (Pink Label)
In a nutshell: SPF 25; medium coverage; brightening and anti-wrinkle properties
This BB Cream is very popular among the younger crowd for its brightening, dewy finish. The texture is light and refreshing, and comes in a pretty pump packaging as you can see in the picture.
Since I was on the lookout for good oil control, I was not too interested in this one, but my SIL got it for me from Hong Kong and I was grateful for the gift. This BB Cream really does seem to improve your skin's texture, so if it weren't for my super-oily T-zone it would have been perfect for me.
This BB cream is also the least expensive of the ones I've tried: you can get it for less than $15 on Amazon.
Dr. Jart+ Silver Label Rejuvenating Blemish Base BB Cream
In a nutshell: SPF 35; oil control; brightening and tightening properties
This BB Cream is the priciest of the bunch at $29, but it is by far my favorite. Why? It has fantastic oil control on top of the anti-aging and brightening effects…but it doesn't dry my skin out.
The texture is a bit thicker than the others, but it's no thicker than a regular foundation. The smell is a teeny bit medicine-y (while the others were more floral and makeup-like), but it's not offensive — just different.
As with all BB Creams, what may work best for one person will not always work for another, so you have to do the research and experiment to find the one that's right for you. I'm not sure if I got lucky or not by finding the best BB Cream for me on the fourth try.
Now, for the giveaway…
Since I like BB Creams so much, I have decided to give one away to one lucky reader!
The best part? The winner gets to choose from the four I've reviewed in this post, in addition to two other top BB Creams. This means that you have the chance to win one brand new tube of BB Cream from the following choices:
(Note: there are two SKIN79 BB Creams on the list, with the Gold Label specifically formulated with anti-aging benefits.)
You can enter the giveaway in three different ways:
Leave a comment to this post, telling me which BB Cream you would choose if you won
Tweet (and leave a comment here saying you did so) the following:
I just entered to win a [enter the name of BB Cream you'd like here] at http://bit.ly/kiuqII via @geekinheels and you can too!
"Like" this post using the Facebook "Like" button at the bottom (and leave a comment here saying you did so)
Each method will grant you one separate entry, so you can increase your chances of winning by using all three methods of entry.
Please leave a valid email address (which will not be published or shared) when filling out the comment form so that I can contact you if you win.
The giveaway will end this Friday, June 17th, 2011 at 12:00pm EST. The winner will be chosen by a random number generator and be notified via email. The giveaway is valid only for U.S. residents.
Thanks for reading, and good luck!
You may also like: