Claire loves books. This bibliophile of a mother couldn't be more proud, as our 11-month-old's favorite "toys" are books…she "reads" in her stroller, she "reads" in the car, and she even "reads" during bathtime (we have some bath-safe, rubber books).
In fact, I think it's safe to say that Claire already has more books than her dad! (I am so glad that she got this trait from me, because J really isn't much of a reader.)
But do you see the problem here? That's right — Claire can't read yet. She loves to flip through her books, point things out, babble to herself and wrinkle/rip the pages, but she's still far to young to read and probably will not be able to read, comprehend, and enjoy books for their actual purpose for another couple of years.
Hence, her favorite books at the moment are the interactive sort.
I've decided to compile a short list of Claire's favorite books, because I strongly believe that instilling the love of books at a young age will help lead to a love of reading. Books have always played such an important role in my life, and I want to help youngsters learn to love to read too.
First up is Dinosaurs: A Mini Magic Color Book:
At 5.4″ x 5.5″, this mini book is the perfect size for Claire's little hands. But the best part is what's inside. Every spread features a "Pull" tab, like so:
 And when you pull out the tab, the black-and-white image turns into full color!
So not only does this book help learn colors, it also helps Claire practice her pincher grips. The "Pull" tab is pretty small — about 3/4″ long — and it takes a bit of tugging to get the colored tab out, so her hand-eye coordination as well as her dexterity and finger strength come into play.
As soon as Claire understood that pulling out the tabs would reveal the dinosaurs in color, she started to try to pull it out herself…and within just a few days she became successful. Because it is an interactive book, and because she becomes so proud of herself for pulling out each tab (well, that may have to do more with the fact that we praise her whenever she successfully does it 😛 ), she never seems to get sick of this book.
Now, we're working on pushing the tabs back in. 🙂
I have recently discovered that the Mini Magic Color Book is actually a series of books, which includes: Sea Creatures, Cars, Baby Animals, Pets, as well as a sub-series that revolve around holidays like Santa's Special Day, Halloween Party, Witch's Night Out, and The Christmas Story. I am soooo tempted to get all the books, but J says that Claire already has enough books. 🙁 Perhaps I will set aside some extra money from ads and gift them to her for Christmas.
The next book on the list isn't exactly interactive, per se, but we make it so! It is You Are My Sunshine, a board book by Jimmie Davis and illustrated by Caroline Church:
If you immediately thought of the popular song of the same name, you're on the right track! Each spread of this book features a cute illustration of a child with his/her stuffed animal, along with exactly one line from the song.
So instead of reading the book to Claire, J and I sing the book to her, turning the pages accordingly, and soon she began to associate the song with the book.
"You Are My Sunshine" is one of Claire's favorite songs. So whenever she wants to hear the song, she will grab the book and hand it over to one of us. It's the cutest thing to see her face light up as we begin to sing, and she always claps when the song is done. 🙂 Then, she will grab the book back and flip through the pages, trying her best to sing the song too. (Yes, I know that I must get this on video!)
Next up: What Makes a Rainbow? by Betty Ann Schwartz.
Each spread of this book features a different color of the rainbow, with another color being added to the mix with each turn of the page. But the best part of the book is that a ribbon of the corresponding color threads through the pages, with another ribbon getting added until the rainbow is complete! (I know —even adults get amazed when they first see this book!)
To see what I mean, here is what the "blue" spread looks like:
And, with the rainbow is complete, the last spread features a beautiful pop-up rainbow (one side is a bit bent because Claire was trying to figure out how the pop-up worked):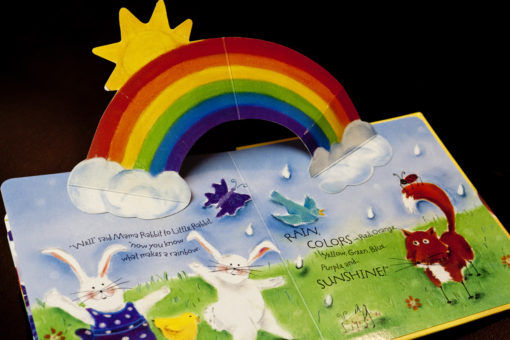 The last on the list is not a single book but a set of books. It is called 뽀롱뽀롱 뽀로로 ㄱㄴㄷ 팝업북 (which loosely translates to "Pororo's ABC Pop-Up Books") and it was a gift from my mother.
Pororo the Little Penguin is Korea's most popular kids' show. Exported to over 110 countries, it is being touted as being part of the "second Korean wave" and some are even pushing for Pororo to be the official mascot for the Pyeongchang 2018 Winter Olympics. In fact, there have even been nationwide concerns that children's affection for their fathers have been getting replaced by Pororo!
Claire is still too young to fully enjoy Pororo the television show (too much dialogue for her age), but she loves the Pororo music videos I downloaded for her. She dances along when a familiar song comes on, and will point out her favorite characters. As such, the 14-book set — one for each of the vowels in the Korean alphabet — featuring Pororo and his friends was a bit hit from the start.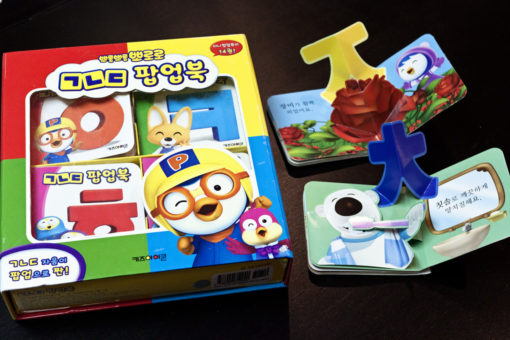 Each book features different words that begin with the corresponding letter, uses them in a sentence (complete with beautiful illustrations), and as you can see above, the last page of each book is pop-up!
The boxed set was quite expensive at about $45 (we bought it at a local Korean bookstore), but I think it was well worth it. She loves to flip through each book, looking for her favorite characters and favorite illustrations, pointing them out to me while smiling and babbling. Additionally, I know that the books will definitely come in handy when it comes time to teach Claire how to read and write Korean.
I hope this list comes in useful to at least one of my readers! Are there any interactive books for babies you would recommend?
You may also like: