A couple of weeks ago, I saw the following comic strip in a Buzzfeed article titled "21 Comics That Capture the Frustrations of Depression":


(source)
There were many comics on that list to which I could relate all too well, but this one particularly hit me hard. And before I knew it, tears were flowing down my cheeks.
Look, I've been down this road before. Lord knows I've devoted a crapload of kilobytes on my computer's hard drive, as well as valuable internet space, writing about my struggles with depression. I was even afraid to write about it here — on my own freakin' personal blog — in fear that someone will invariably react with an "AGAIN? I thought we've been through this…over and over."
And I'M SICK OF IT TOO. I wish I could just take a magic pill and feel better. To BE HAPPY, once and for all. I hate myself for not being able to feel joy, for wanting to feel anything aside from sadness and despair and frustration.
I hate myself for not being able to focus on the good things in life — because isn't that what NORMAL people do? — and only continuing to get sucked into a deep vortex of hopelessness.
Most of all, I hate being a burden to my loved ones. Because depression, by nature, is a selfish disease. Because, in attempting to help myself feel better (or, sometimes, just wallowing in sadness), it causes my focus to turn inward, consuming precious time and energy I could instead be devoting to my family and friends.
Because they don't deserve this.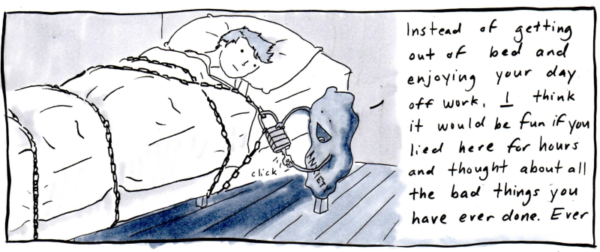 (source)
It's always hardest in the mornings, because the act of getting out of bed is just SO. DAMN. HARD. But I force myself to do so, because I have people who depend on me. And I always feel tremendous guilt for feeling this way, because this shit should just come naturally without any resentment.
And what the hell do I have to be so sad about? I know that I have the right to be unhappy, but once again the guilt sets in when I think about all the other people in the world who have it so much worse than I do. And sometimes, the things that set me off make ME want to slap myself upside the head.
The girls make a huge mess in the living room. 'NO MATTER HOW HARD I TRY TO MAKE THINGS GOOD AND RIGHT, SOMEONE OR SOMETHING MESSES IT UP AGAIN.'
I forget to buy eggs from the grocery store. 'DINNER IS RUINED. MY ENTIRE FAMILY WILL HATE ME. I HAVE RUINED MY LIFE, AND THEIR LIVES.'
The government is shut down. 'EVEN OUR GOVERNMENT IS IN RUINS. THERE IS NO HOPE FOR A BRIGHT FUTURE.'
I hate interacting with others, whether in real life or virtually, through emails, texts, or social networks, because acting normal is so exhausting. I resent others for being able to feel happy, for having the ability to go about their lives without crumbling into a ball of despair.
I want to shout to everyone, "HOW is everyone still smiling and LIVING? Doesn't anyone else SEE how HORRIBLE everything is?!??"
Other times, I get angry. "You're feeling sad because your loved one is in the hospital? Well I BURNT MY TOAST THIS MORNING AND I CAN'T STOP CRYING ABOUT IT." Even just writing that sounds utterly ridiculous and asinine. But that's how I feel, and I still get sad thinking about that poor, charred, wasted piece of bread.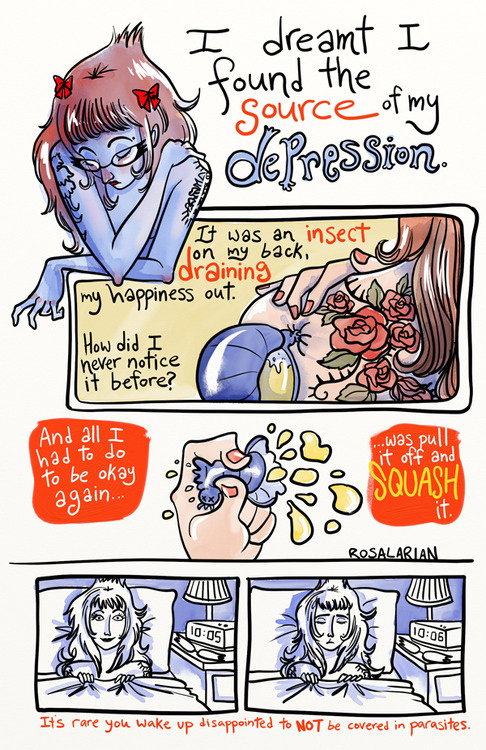 (source)
And I'm afraid to talk to anyone about it because they will undoubtedly say things like, "Why haven't you come to me sooner? What can I do to help?" and the thing is, they can't help. Then I will feel bad that they aren't able to help, for having burdened them with something over which they have no control.
Besides, like I said above, I am SO sick of talking about it.
I hate myself more and more each time I feel that familiar rush of tears gathering behind my eyes. I don't want to live anymore. Not that I want to commit suicide per se, but that I want to cease to exist. I wish I had never existed, and I just know that the world would have been a better, brighter place — even if just by a little — if I had never been born.
My deepest, darkest wish for the past couple of months has been to go to sleep and never wake up. That I will just disappear into thin air and the world will magically readjust itself into the one where I had never existed. Painless, quick, and no burden at all to my loved ones.
But I'm still here. Or at least, I'm trying to hang on to what little hope I have left. As Allie of Hyperbole and a Half said:
Nobody can guarantee that it's going to be okay, but — and I don't know if this will be comforting to anyone else — the possibility exists that there's a piece of corn on a floor somewhere that will make you just as confused about why you are laughing as you have ever been about why you are depressed. And even if everything still seems like hopeless bullshit, maybe it's just pointless bullshit or weird bullshit or possibly not even bullshit.

I don't know.

But when you're concerned that the miserable, boring wasteland in front of you might stretch all the way into forever, not knowing feels strangely hope-like.
I know I need help.
And I hope you'll bear with me as I embark on this journey…again. As I await my own piece of corn.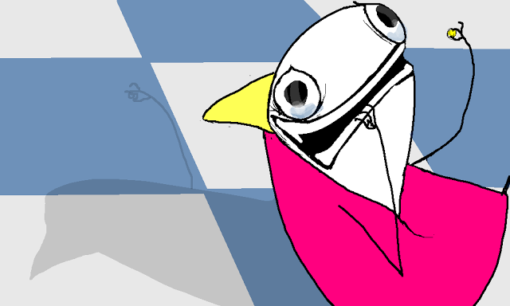 You may also like: