How much does psychology come into play when it comes to the day a woman gives birth?
As it turns out, more than what you might expect.
Using 11-years' worth of U.S. birth certificate data provided by the National Center for Health Statistics, Yale researchers have found that there are higher instances of birth on Valentine's Day, a holiday traditionally linked with positive symbolism, while Halloween — a holiday which traditionally conveys negative symbolism — has lowered birth rates.
Take a look at the following graphs, provided by Try Nerdy: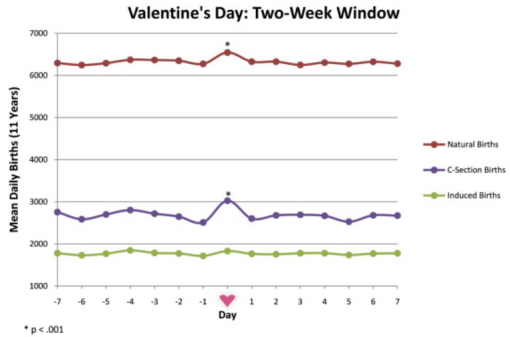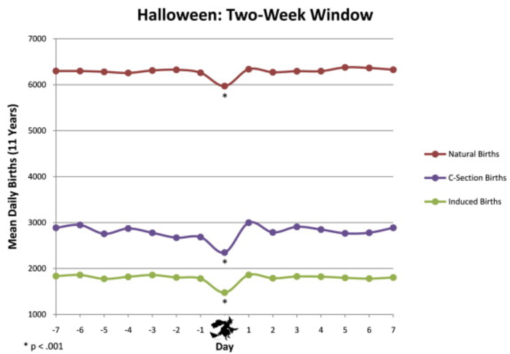 While the overall increased likelihood of giving birth on Valentine's Day jumps by 5%, a whopping 11.3% decrease in births was seen on Halloween across these years!
Although I know quite a few women who say that they would love to have a Halloween baby, I personally am keeping my fingers crossed that BebeDeux (whose due date is November 3) will not be born on this holiday — not due to the negative connotations, but because I prefer not to have my child share her birthday with a major holiday.
I have stated over and over again that I'm hoping for a November 1 birthday so that her birthdate will be binary: 11-1-11! (J wants her to stay in there longer because he wants a 11-11-11 birthday, born at 11:11:11!)
I also have another ulterior motive for wanting a November birthday: my mother's birthday is October 27, and my sister's is October 28. Additionally, my cousin's twins were born on Halloween (contrary to the data above)…and I would prefer that BebeDeux does not share a birthday with another member of the family, or even a birthday month with four family members. That being said, I admit that an October 29 birthday wouldn't be too bad, as my mother, my sister, and my second daughter would have birthdays right next to each other's.
I know that there are a million circumstances beyond my control, but if the hormonal mechanisms responsible for determining birth timing are affected by psychological factors as the study suggests, I believe that my chances of my getting a preferred birthday for BebeDeux are better than I thought!
Besides, I can remember just last year, wishing and hoping for a September birthday for Claire (her due date was October 3)…and she was born 4 days early, on the last day of September. 🙂
If you have children, would you say any psychological factors affected their birthdays?
You may also like: