A couple of months ago, my friend Tara blogged about Feedly, an alternative to Google Reader.
My knee-jerk reaction upon reading the title of the post was, "Why would anyone use anything besides Google Reader?"
But as my eyes scanned down the body of the post, the more I wanted to give Feedly a try. I mean, look how pretty it is!
In this fast-paced, highly visual world, Feedly allows its users to browse their RSS feeds in an aesthetically-pleasing and easy way. How does it work? By linking to your existing Google Reader account, which also means that there is no need to transfer anything…and it syncs with your Google Reader account so that if you want to go back to Google Reader for any reason, everything — including your saved items ("Starred" in Google Reader) — remains updated.
Feedly can be downloaded as extensions in both Chrome and Firefox. This allows the app to be fully integrated with your browser for an easier and smoother experience. Not a Chrome or Firefox user? Fear not, because Feedly can be viewed in any major web browser except IE.
As you browse through your feeds and find an article you'd like to read, simply click on the title (or accompanying picture) and voilà!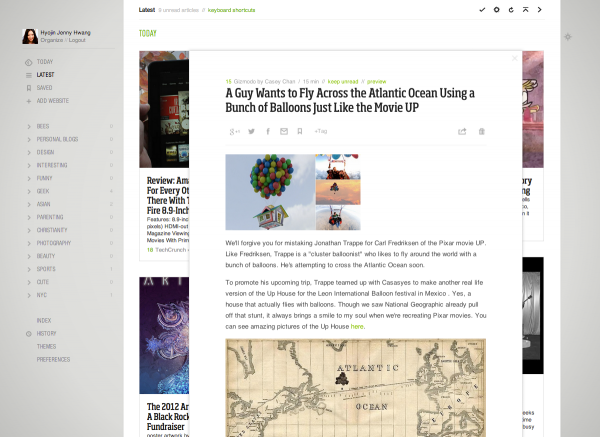 You can see from the screenshot above that Feedly also allows you to easily share articles on various social media sites. And one of my favorite features can be seen above too: the "preview" link, which allows you to see the article in its home site without opening a new window. This is very useful for sites that publish truncated feeds, or if you quickly want to scan through the comments on a post.
Right now I have my Feedly set up so that my articles are in magazine format. You can also choose to display them in list format, or even the full articles themselves! And that's not all — check out some of the other fun customizations you can make (there's lots more but they wouldn't all fit in one page):
Mobile users will also be pleased to learn that Feedly has apps for Android, iPhone, iPad, and Kindle. As with my computer's web browser, reading my RSS feeds is so much more fun and easier with Feedly for Android:
See the little scrollbar at the bottom of my phone screenshots? I only just noticed these the other day. Feedly just happens to be one of those apps where you continue to find and learn little features.
The only downside to Feedly is that it need to be linked to the Feedly servers to work. This means that if Feedly goes down, you can't access it at all. (Fortunately, this rarely happens.)
Feedly manages to keep its services FREE via tiny, unobtrusive ads I barely notice. In fact, the ads only show in the home page in the right sidebar, seamlessly blended into the other sidebar items.
J has fallen in love with Feedly too. 🙂 In fact, he uses its extra features a lot more than me.
So what are you waiting for? Go give Feedly a try!
You may also like: