I haven't been able to take too much pictures this week because I have a nagging cold. Not the fever-aching-gawd-kill-me-now kind, but the annoying type that makes me cough like I have a 2-pack-a-day habit and go through half a box of tissues a day from all the snot that comes oozing down my nose.
So aside from the first two pictures, these were all dug up from my camera's memory banks. I think the oldest is about a couple of months old.
Claire has been obsessed with our growth chart lately. Every day, several times a day, she will stand up against it and ask me to measure her. She will then call for Aerin and measure her too.
A couple of days ago, she started to measure her giraffe too. (I'm pretty sure she got the idea from the opening scenes of Toy Story 3.) And since he's not tall enough to reach the growth chart, she let him cheat a bit. 😛
J and I have a Philips Sonicare we love (a dentist friend gifted us our first rechargeable electric toothbrush with a UV brushhead sanitizer as a wedding gift and we've been hooked ever since!), but for the past week I have been using a regular toothbrush instead to teach the girls better brushing habits.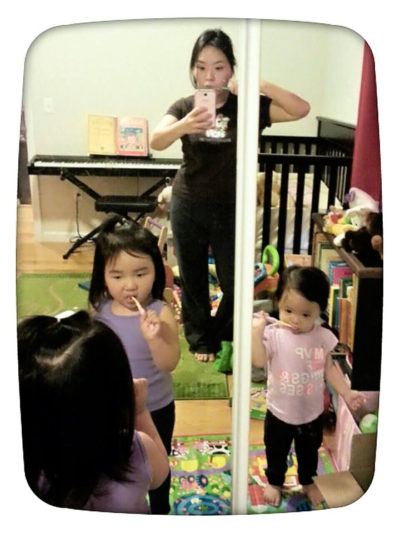 One thing I have noticed lately is that if I am having trouble teaching Aerin certain things (like to use her toothbrush to actually brush her teeth instead of just chewing on it), I ask Claire to come demonstrate and she will pick it up faster. And since Claire learns best when I demonstrate, our life together becomes a mishmash of the games "follow the leader" and "telephone" at times. 🙂
This is an easy educational game I like to play with Claire. I lay out a deck of playing cards and organize it by number and suit. And before I'm done, I ask Claire to finish and fill in the blank spots with the appropriate cards.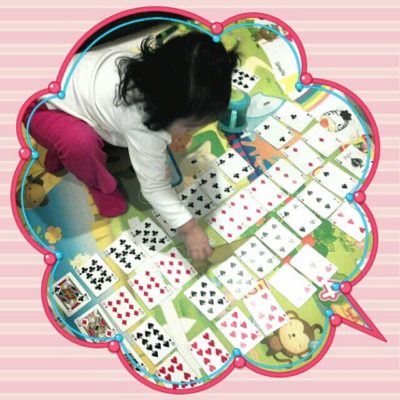 Every time we play, I leave out more cards. She's getting pretty good at the game now!
I love comparing pictures of the Aerin with those of Claire when she was at a similar age, in the same settings or wearing the same outfits. Aerin loves these Kai-Lan pajamas as much as Claire did last year!
I came across this photo of Aerin and I realized I never blogged about her baptism. We had her baptized quite late, but on the upside it was on this past Easter Sunday. 🙂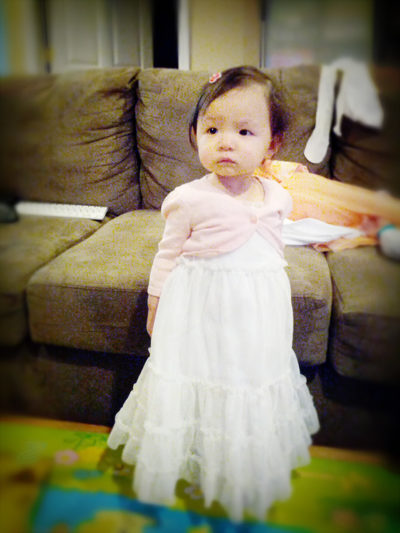 However, I'm a bit sad to report that this is the only decent picture of her on that day, in her baptism outfit. Someone (no names) was throwing a tantrum that morning and was refusing to get dressed, so we were running really late for church and didn't have time for a mini photoshoot as we had done for Claire.
Lastly, a shot of the two of the girls' favorite toys at the moment. We received these Korean blocks as a present for Claire's first Christmas, and another friend gifted us the Chinese blocks earlier this year.
The picture above doesn't show how each block depicts different characters and vocabulary on the other faces. So while Aerin is still learning to properly stack the blocks, Claire has been learning Korean and Chinese characters using the same toy. It's amazing how she knows the English alphabet and some Korean and Chinese characters at just 2½ years old!
You may also like: