Gawd, having two toddlers is tough. And trying to be a good mom is the hardest thing I've ever done (and I imagine it will continue to be so for the remainder of my life).
These past couple of weeks have been especially trying with J's parents and my own mother all on vacation (the timing was purely coincidental), leaving me with no help or backup for the kids while J is at work.
To make the experience extra memorable, my little Aerin fell sick with a cold…and as soon as she got better, she got hit with a full-on case of roseola.
How has the human species survived this long when parenting is so grueling?
It should come as no surprise to long-time readers that I am not the most positive person in the world. I have been called downright pessimistic — a Debbie Downer to the sunshine & rainbows crowd that seems so prevalent in the blogging world today.
But I am not a complete Negative Nancy. I have my "look at me sharting rainbow cookies!" moments. And, with my favorite TED talk in mind as I go about my everyday life as a SAHM, I have been noticing that perhaps the greatest influence my kids have had on me is that they give me the most spectacular highs. Sure, the downs are as low as ever, but the unhinged highs keep me hangin' in there.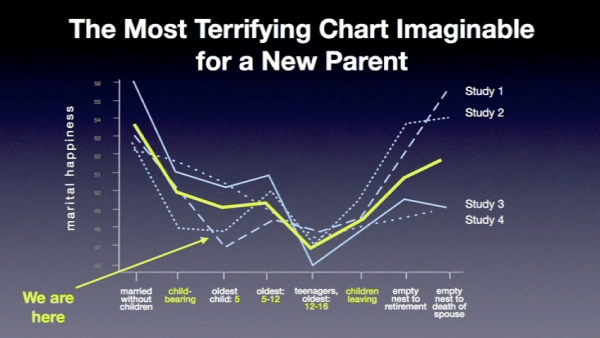 A chart from the abovementioned post
As a result, whenever I'm feeling especially in the dumps, or when I'm overwhelmed and exhausted to the point of breaking-out-in-hives-and-getting-nosebleeds (both of which have happened this past week), I try my best to take a deep breath and think of at least one thing that I am thankful for.
And since most of my stress stems from Claire & Aerin these days, I like to focus my positive energy on them as well.
Sure, I could moan and groan about getting so little sleep that my face literally hurts (it hasn't been this bad since their newborn days). I could feel like shit for losing my cool with them and snapping, "WHAT DO YOU WANT?!??" on more than one occasion.
I could feel like a bad wife for not preparing dinner for my husband for an entire week straight. I could feel like a crappy mom for not always preparing healthy and nutritious meals for my kids — because what can you really do when they REFUSE to eat anything else aside from a few certain dishes? (Special K with whole milk is good for you…right?)
I can obviously go on and on. But I won't, because I know that my problems are nothing new to parenting. And while they may seem monumental and OMG THIS IS THE WORST THING THAT'S EVER HAPPENED TO ME at the moment, they eventually pass and I go on to enjoy the good times.
Like sometimes looking at C&A and not even recognizing them because dude, they're so freakin' AMAZEBALLS and how they heck did they pop out of me?
Or when Claire gets really excited at the end of "The Circle of Life" (from Disney's The Lion King) and yells "UMMA!" at me so that I can pay attention while she grabs whatever toy she has on hand and holds it up into the air like Rafiki does with baby Simba.

Sometimes, I hold Aerin up to the air right alongside Claire while
we both sing at the top of our lungs.
Or when Aerin is obviously upset and suffering from being ill and she insists on being held ALL the time by her mom and her mommy only. Yes, it's annoying as hell but it's also the sweetest thing to feel that level of love and devotion from anyone.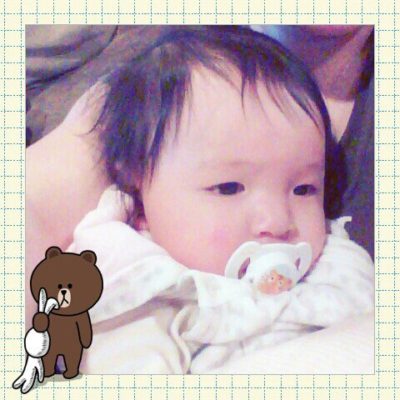 Or when I watch the girls learn and interact and play with the world around them. They are SO ridiculously smart. I know that I'm their mother so I have to say these things but man oh man. I seriously don't know where they get their brains from because it ain't from me or their father. (No offense, hun!)

These Chinese and Korean blocks were gifted to the girls by their generous aunties and uncles.
And when they use what they learn to play with each other? To see them have fun and grow a bond and actually MISS each other when the other's not there?
Yeah, those moments are pretty kickass. (See the dance party below.)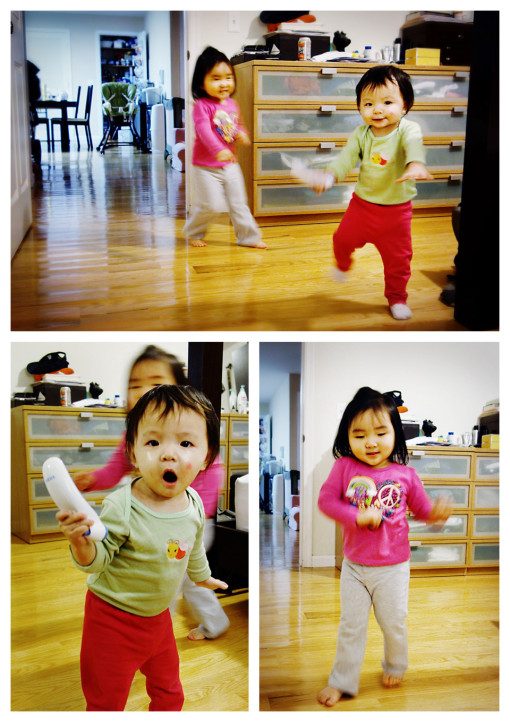 You may also like: