As much as I love NY for its plethora of museums and artists' culture, I wish I had the time and money to travel all over the world to visit special exhibitions.
This week was especially frustrating because there are not one but two exhibitions I'm dying to see.
First up is Drawing Room at the Thinkspace Art Gallery in Los Angeles.
I will be in LA for a full week in February so I was severely disappointed to see that this exhibition will only run from until November 29.
Some of my favorite pieces include: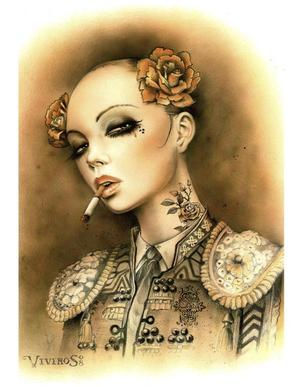 Mata-Adore by Brian M. Viveros

Cry Me An Hologram by Irana Douer

Bold as Love by Stella Im Hultberg
The second exhibition hails all the way from Mu at The Netherlands. It's always six o'clock ran from May 23 – June 29, and encompassed the entire gallery space, including walls and electric fixtures, in showcasing pop culture in unexpected ways.

Mickey Mouse serving a plate of human bones. The clock in the background was a working clock, ticking away but always stuck at six o'clock, in celebration of the name of the exhibition and the artists' desire to have the power to stop time.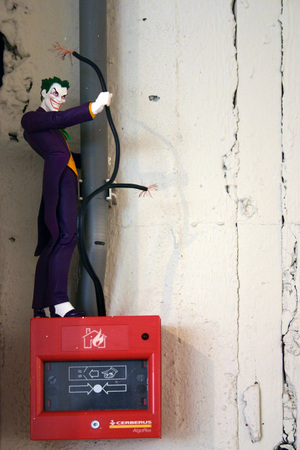 A Joker action figure sits perched on top of what looks to be a fire alarm. He is up to his devious ways, having delightfully disconnected the safety device.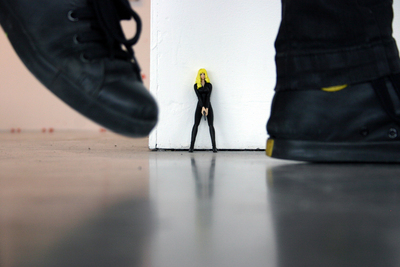 A toy spy figure waits at the corner of a turn, unbeknownst to passerbys.

Innocent-looking anime figures (Sailor Moon?) paint graffiti on a portrait.

The Thing (two of them) hose-spray orange paint onto the wall.

A small army of Supermans deface another wall by pouring bottles of paint down its side.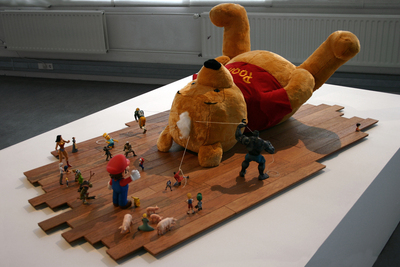 This one's my favorite. Gulliver Pooh.
Click on to the exhibition website for more photos and even a video!
Via Boing Boing and MAKE Magazine.
You may also like: