Update:  This giveaway has ended. Congratulations to Elisa T, who entered via Twitter!
---
If you are anything like me, you would probably agree that most baby books out on the market are crap. They are usually pretty cheesy and most do not have anything extra special about them.
This is the primary reason I was thinking about forgoing the baby book route when I was pregnant with Claire. (That, and the fact that I'm a complete idiot when it comes to scrapbooking.) And then I read about L'album des trésors de bébé on my friend Kelly's blog…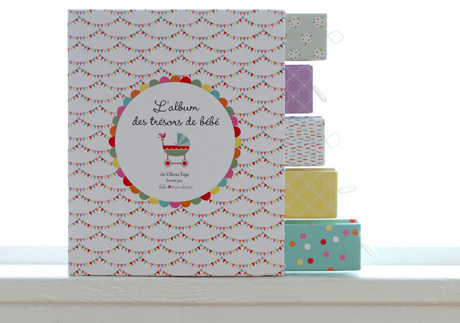 The book is incredibly cute, with gorgeous (gender-neutral) colors and patterns used throughout its pages without being tacky. The graphics are adorable and unobtrusive, and even the quality of the thick paper is superb.
One of the best parts about this book is that it comes packaged in a box that has slide-out drawers along its side — perfect for storing the scrapbooking supplies used for the book!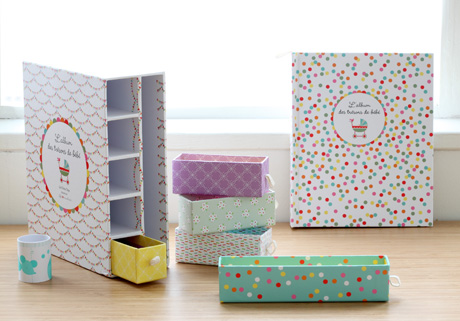 The only "con" that I could see with this book is that it is entirely in French. But in these days of Google Translate, that should not pose much of a problem for any determined user. Heck, I actually consider the book being in French one of its charms!
Now, because it is a dreary Monday in January…
And to celebrate my move to a new web host…
I will be giving away a copy of L'album des trésors de bébé
to one lucky reader!
Are you pregnant, or planning to become pregnant, and in search of a baby book to call your own? Do you know someone who is pregnant, or is a new mother? Even if you do not plan on having babies anytime in the near future, you should enter anyway so that you can have this marvelous piece stored away for future use.
To enter this giveaway, simply use the Rafflecopter widget below. Not sure how to use Rafflecopter? Watch this 45 second video for a tutorial on how to enter a giveaway using Rafflecopter. There are 5 methods of entry, with the first method (commenting on this blog post) being mandatory while the third method (Tweeting about the giveaway) can be used once per day:
This giveaway will end on Friday, January 13th, 2012, at 11:59pm, at which point a winner will be randomly chosen and announced here.
Please use a valid email address and/or Twitter handle so that I can contact you if you win!
Sorry, this giveaway is open only to residents of the U.S.
Good luck, and thanks for entering!
You may also like: