If you tried to visit this site yesterday or earlier today, you were probably met with a big fat error message. 🙁 
I thought that the problem had resolved itself by Saturday evening, when the site briefly came back online after my web host reset the server, but the reprieve only lasted a couple of hours.
This was the second time in less than a month that this had happened. (Third, if you count the reset on Saturday.) Add this to the consistently sloooow loading time I had been experiencing in the past half year, and we had a problem on our hands.
It wouldn't have been half as bad if my host's customer support:
Hadn't taken seven hours to respond to my first email, then another four to my response;
Had a method aside from just email for me to contact them;
Had not only given me possibilities of the cause of the downtime and flat-out refused to answer some of my questions ("Sorry, we cannot release that information.")
The only straight suggestion they could offer was for me to upgrade to a VPS (virtual private server) hosting plan, since it seemed that my traffic had outgrown the shared hosting I currently use.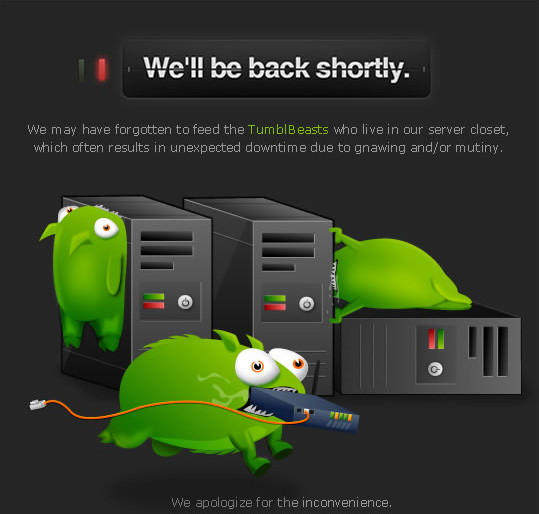 I wish there was a cool reasons for this site being down — like TumblBeasts — but alas,
it was just my overworked shared host.
After doing some research to confirm that it was, in fact, time for me to upgrade to a VPS, I decided to switch hosts as well.
And the result, after browsing through various reviews, forums, and charts online, was the decision to go with InMotion as my new host.
Last night and this morning saw me transferring files and setting things up on my new host. I predictably had some questions and ran into some snafus, but was extremely impressed with InMotion's support — which is available 24/7 via email, phone, or live chat(!).
They even provided me with a temporary URL and cPanel so that I could get my site up and running before I start pointing my domain to the new host.
Already, I could see a huge improvement in speed. For example, it took more than twice as long for me to download a large file from Dreamhost than to upload that same file to InMotion. And my site on their temporary URL? Snappy as can be!
Now, I am just waiting for the domain to transfer over. Which I am — once again! — waiting for my old host (which also hosted my domain) to respond.
I can't wait until the transfer is complete! Seriously — you guys have no idea how much the slow loading time was bugging me!
(InMotion has not compensated me to write this post, nor am I an affiliate looking for referral credit. I genuinely believe that they are awesome and am really looking forward to hosting my site with them.)
You may also like: