This past Memorial Day, we decided to visit Green Meadows Farm, a "petting farm" 45 mins from Manhattan.
My daughters seem to be city girls. Aerin wasn't too impressed with the farm animals, while Claire was scared of most of them. We weren't able to get too many pictures because we had to keep holding the girls (Aerin to keep her from running into the woods, and Claire to calm her down), but we were able to get a few memorable snapshots.
We started the tour with chicks and ducklings. I have an irrational fear of birds, but I managed to keep my composure.
This is the exact moment when Aerin began to lose interest. She was much more interested in the wood chips on the ground, the forest surrounding the farm, and the barn buildings than the animals.
(And I just realized now that I'm wearing the same t-shirt as the one worn in my Comfy Jeans post below. Don't judge — it's a comfy shirt and it's easy to repeat outfits when you do laundry 2-3x a week!)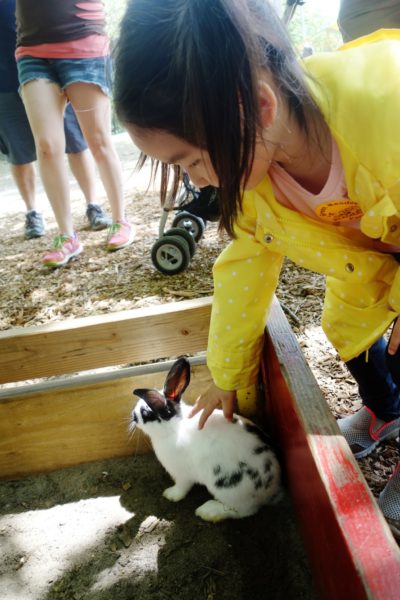 I'm not a huge farm animal person — I much prefer typical household pets like dogs and cats — but when one of the guides handed me a 2-day-old baby goat, I became smitten.  😆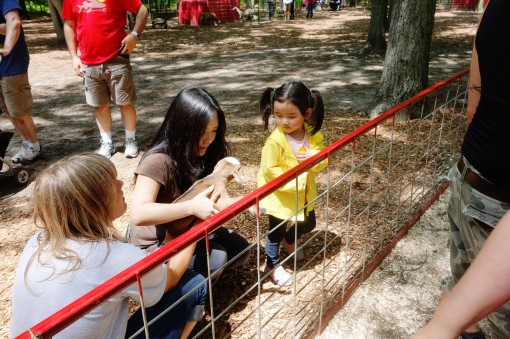 J cracked up when he saw this picture. "Look how happy you look!" It was true; the baby goat snuggled into my arms and kept licking me. I love baby goats now! They're my favorite farm animal!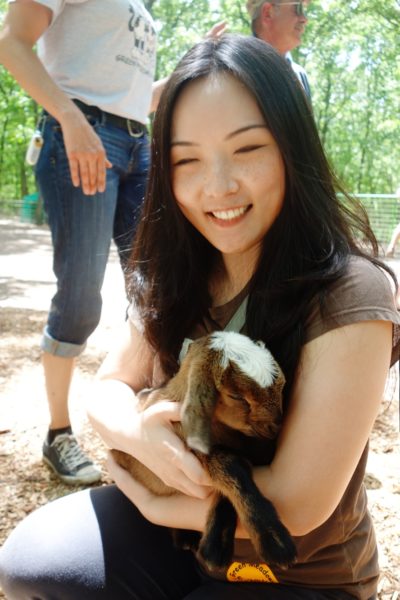 Claire, on the other hand, was not so enamored. Look how scared she looks!
Not pictured: pigs, sheep, turkeys, geese, cows, ponies, donkeys, llamas, emus…and probably more I can't recall at the moment. Like I said at the beginning of the post, it was difficult to get pictures because we had to keep holding the girls.
The tour guides even invited us to milk a cow, but once again, Claire was too frightened.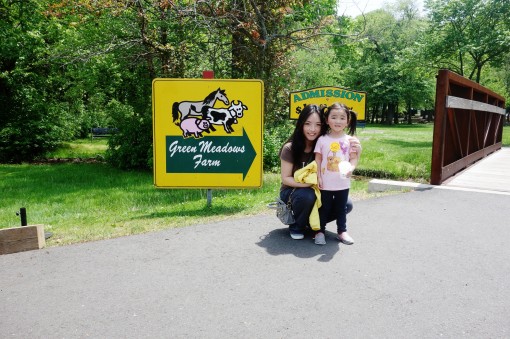 The tour is supposed to end with a hayride, but Claire & Aerin were both starting to get tired, hungry, and cranky. And with J's allergies starting to act up, we decided to cut the visit short.
I'd love to visit Green Meadows Farm again when the girls are older (and Claire hopefully braver!). The animals seemed content, the tour guides were friendly and patient and instructed us well on how to best interact with each animal, and it wasn't nearly as smelly as I had feared it would be.
There were hand sanitizing stands at regular intervals, and a large washing station at the end of the tour — perfect for neat freaks like me.
We decided to stop by the nearby IHOP before heading back home. To be honest, I think the girls liked their waffles and chicken and ice cream more than the farm itself…but I'm glad we took this little break from urban life!
You may also like: