First children are bound to feel neglected and resentful at times when a younger sibling comes along. So far, Claire has been doing splendidly with the addition of Aerin into our lives, but there are moments here and there where I can see the sadness in her eyes when we are preoccupied with Aerin. 🙁
To help her know that we will never stop loving her, this past Sunday, we decided to give Claire some "alone" time with mommy and daddy by taking her to the Liberty Science Center. (J's parents graciously agreed to watch Aerin while we were out.) We actually live just 15 minutes away from this wonderful, interactive science museum and I had been dying to take Claire for ages.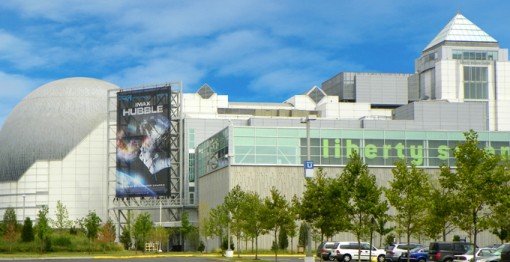 The Liberty Science Center is New Jersey's largest and newest museum, and also houses
the nation's largest IMAX Dome. 
The entrance to the Science Center is grand, with an expanding & collapsing sphere by Chuck Hoberman. We spent quite some time in the main lobby so that Claire could stare up at the sphere. I think she could have spent hours there if we hadn't dragged her away.

(image source)
Claire is still too young to enjoy the majority of the museum. The very first exhibit we entered was called Energy Quest, which explores various types of energy, and our overly shy and cautious daughter seemed more scared than captivated by the loud and startling stations.
So we decided to move on to Our Hudson Home, which we knew housed some large fishtanks, and score! She LOVED it.
(Before I go on, I must apologize for the quality of the following pictures. Someone — ahem! — forgot to check the battery on our camera before we left the house, so all the photos from this outing were taken with a cell phone camera.)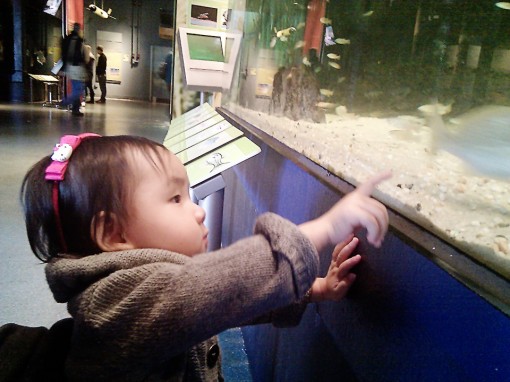 She loved the fish so much that even when we had seen everything and tried to exit the exhibition, she repeatedly turned around to go back for more.
Other highlights of the day included a floating beach ball…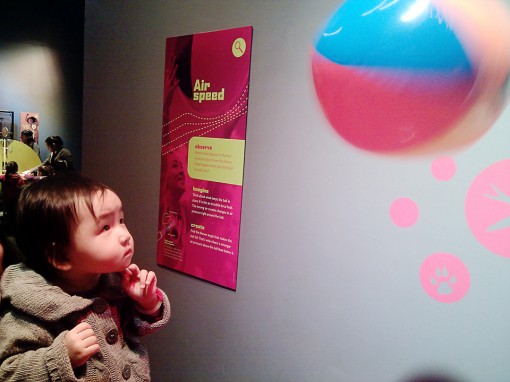 And an exhibition called Eat and Be Eaten which had more live animals.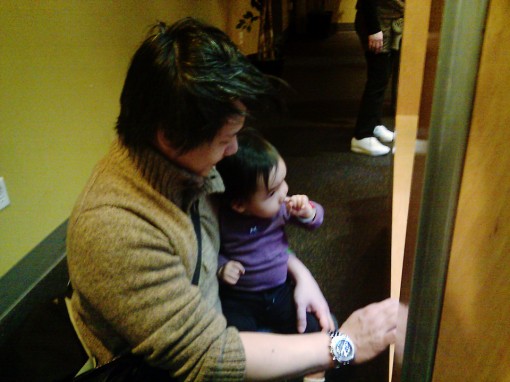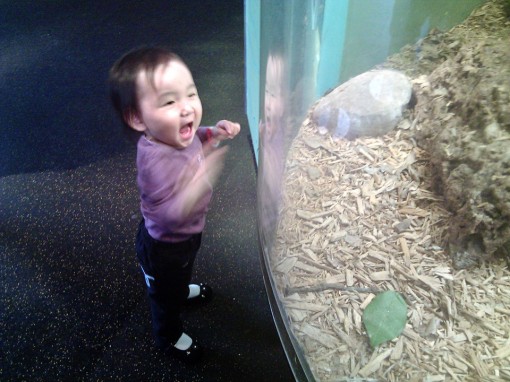 As stated above, most of the exhibitions were much too advanced for our 16-month-old. However, whenever we saw a button we let her press it. She loves buttons (she even knows which buttons to press for our building's elevator!) and pressing each one to see an interactive display unfold made her squeal and clap on more than one occasion.

It makes me sad to think that she might not know what these are when she grows up.
We would have loved to have visited the I Explore exhibition, which is specifically designed for kids aged 2-5, but there was a private party going on there at the time. 🙁  There's always next time, right?
J and I have agreed that we will almost definitely be purchasing a family membership to the Liberty Science Center when our kids get a bit older. We may even plan a birthday party there — I checked, and the prices aren't as exorbitant as I had feared.
In the meantime, I plan to continue to visit with my eldest in tow whenever we need some "mommy & me" time…..and when Aerin gets old enough to appreciate the Science Center too, I am guessing that we will be making numerous family trips.
You may also like: