At my very first full-time job, I had a huge whiteboard hanging in my cubicle. I used this whiteboard to mostly write reminders for myself and coworkers, but sometimes we would leave messages for each other (à la whiteboards on the doors of college dormrooms), and once in a while they would become spaces for creative doodles and inside jokes.
I believe that my finest work on this whiteboard derived from the time someone stole my stapler — too bad it wasn't a red Swingline stapler! 😉 — and I drew a cartoon of Milton from the movie Office Space asking, "Do you have my stapler?"
I thought that cartoon was pretty dope, and received many compliments on it. (Sadly, I never took a picture.) I continued to draw little funnies on my whiteboard for coworkers to enjoy, and have always been proud of myself for these pieces of whiteboard art…
Until now.
Because Bill Taylor, a data manager from North Carolina, has officially taken the crown for office whiteboard art — art so elaborate and impressive that it makes all other whiteboard doodles look like chicken scratch in comparison.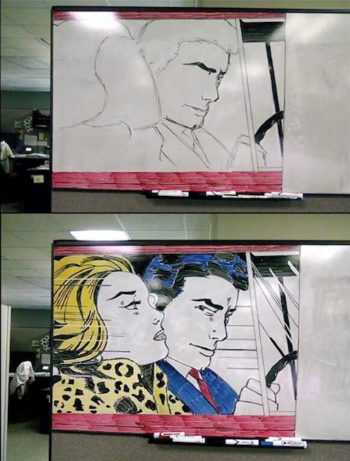 Bill spends about 2-5 minutes each day sketching with his personal supply of dry erase markers, and takes an average of about six weeks to finish each piece. Once he is finished, he says, "I'll leave it up for a couple of days before I erase it. People ask me all the time if it's painful to erase them when they are done. Honestly, no, because I'm always excited about starting on the next one."
Be sure to check out more of Bill's masterpieces at his blog, Cubicleism. I personally love the blog's tagline, "Searching for the mythical gray dry-erase marker…" 🙂
Via My Modern Met.
You may also like: