Today Donna returns with the second post in her three-part series on baby budgeting: diapering!
After briefly delving into the three types of diapering options available to parents today in America, Donna describes myriads of ways to save on disposable diapers. I, for one, will be bookmarking this post for future (and current!) reference. And read on to the end of the post for a great giveaway. Enjoy!
---
Diapering 101
The big debate: cloth diapers vs. disposable diapers
When we first found out that we were pregnant, we wanted to do the green thing and go with cloth diapering. It sounded like a good idea and my mom had done cloth diapers (mostly because back in 1981, it was just the more affordable thing to do) with me.
Let's break down some costs:
Cloth diapers — The cost of cloth diapering can vary considerably, from as low as $300 for a basic set-up of prefolds and covers, to $1000 or more for organic cotton fitted diapers and wool covers. Despite this large price range, it should be possible to buy a generous mix of prefolds and diaper covers for about $300, most of which will probably last for two children. This means the cost of cloth diapering is about one tenth the cost of disposables.
Diaper Services — Subscribing to a diaper services costs between $13 and $17 each week depending on how many diapers a family decides to order. Let's assume the family spends roughly $15 a week for 60 diapers a week. This equals $780 annually and averages to $65 a month. Over the course of two years, the family will spend about $1500 per baby, roughly the same cost as disposables, depending on what type of covers are purchased and what type of wipes are used. If one adds in the cost of disposable wipes for either diapering system, the costs increase.
Disposable diapers — For these calculations, let's assume that a family needs about 60 diapers a week. On average, disposable diapers cost roughly 23¢ per store-brand diaper and 28¢ for name-brand. This averages to 25.5¢ per diaper. Thus the average child will cost about $800 annually and $1,600 to diaper for two years in disposable diapers, or about $66 a month.
What did we do?
We were going to go with a cloth diapering service. However, at our baby shower, someone made us a huge diaper cake and our nurse snuck in a bunch of newborn diapers in our bag. So, with ALL of that, we didn't need any more diapers for the first 2.5 months of our son's life! Since we started with disposable, we ended up continuing with disposables. However, there are other ways to save on disposables!
And don't forget about wipes! To be honest, we just buy whatever generic wipe is on sale — it doesn't matter to us.
But for diapers, I suggest that you subscribe to Huggies and/or Pampers and get coupons from them. Also, the Sunday paper almost always has more coupons, too. I like using websites such as www.diapers.com or www.amazon.com to buy my diapers. For www.diapers.com, there are usually promos so you can get a discount, no tax and free shipping over a certain dollar amount. Also, you can mail your manufactor's coupons into them and use them online!
And with Amazon, you definitely get some good deals. My latest deal was through them: August Parenting magazine code (20% off) + September Parents code (20% off) + possible coupon at Amazon coupons page + 30% Off Subscribe and Save discount = Awesome! Side note — sign up for Amazon Mom membership so your shipping is free along with other good deals.
How else do I describe it — check out this picture: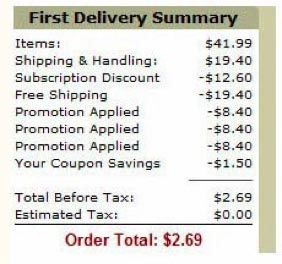 However, if I need to go to a store to buy diapers, I go to Target or Costco. Target is because of the stackable coupons from both Target coupons and Manufacturers coupons. For Target, I can get a Huggies Size 3 box (168) for roughly $38.99 — with the coupons in the mail ($2 off the Target brochure and $2 off the manufacturers coupon that comes in the Sunday newspaper) — that ends up being 21 cents per diaper. Plus, sometimes, Target will do a deal that if you buy two boxes, you'll get a free $5 Target gift card.
Costco has the same diapers for $49.99 for 224 quantity which comes out to be 22 cents per diaper. BUT they don't take manufacturers coupons so shopping at Costco is only good for diapers when there is a Costco coupon for the diapers.
Or do what I did and potty trained my son at 18 months to save even more money!
---
Donna has graciously offered to give one reader a 20% off coupon from Amazon! All you need to do is to comment on this post and you will be entered in this drawing.
You will have until Wednesday, 10/27/10 at 12pm EST to enter, and the winner will be emailed the coupon code. Don't forget to include your email address so that we can contact you if you win! Good luck!
You may also like: