Jane is an up-and-coming photographer who recently documented her friend Sung's pre-wedding photo shoot. I hope you enjoy the photos and the accompanying story as much as I did!
---
A couple weekends ago, my friend Julie and I went to give moral support to our friend Sung and James as they took their pre-wedding photos in our nation's capital (more like the E-Jung Wedding Total Bridal Shop located in northern Virginia). If you can get some wedding photos taken before the wedding, I highly recommend it! It's less stressful on the official wedding day because you get those bride and groom shots out of the way. We were really there to make sure Sung's hair, make-up and everything else was in place. Luckily I brought my camera, along with my f/1/4-50 mm lens in case their photographer either loses their photos, accidentally deletes them or his camera ends up malfunctioning (eeek). Trust me; I've heard worst case stories from my photographer friends.

(They were calling each other names and poking fun at each other when they were posing for this shot)

(James messing with the owner of E-Jung)

(I caught him off guard in order to achieve this photo. He was obviously looking at his wife to be.)

(This was taken right near the Capitol. Their photographer told them to splash their feet in the fountain. Awkward. Let's hope the photos turned out well for this shot.)
Sung is obviously the hotter one of the couple but when you get to know both her and James, you can understand why those two really gel together. These two goofballs keep each other and those around them laughing all the time. They had us laughing at the comebacks they threw at each other, at their charismatic photographer who taught Sung how to pose like a lady and James' best man who was supposed to record their moment but couldn't get the LCD screen to turn on (nice Eric). You can't tell with James who looks kind of stiff in these photos because he's just like Chandler from Friends — he just tightens when posing in front of the camera or as Sung would say, "He's soo bad at pictures!" So I made sure to capture some candid photos of him and Sung. It's only when he's getting her to laugh is when he's truly himself. Congrats to you two lovebirds, I'll see you two at your wedding!

Me posing some K-pop moves
---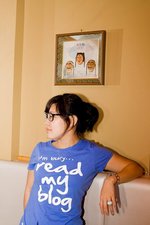 About the Author:
Jane from JaneKChun.wordpress.com resides 20 minutes from our nation's capital. Besides working for the government, she's also a freelance photographer and a Sunday school teacher at the church she attends. Her blog entails photos and stories that capture her ongoing journey as an up and coming adult!
You may also like: