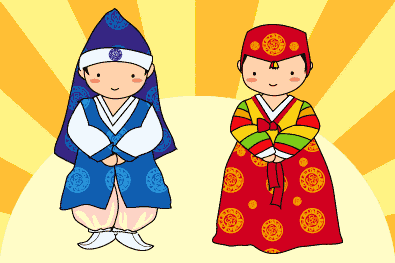 (image courtesy of Little Seouls Blog)
I remember when I was little, the best part about New Year's Day was not the gathering of family or the delicious food. The best part of New Year's Day for me — and for millions of other Korean kids — was getting dressed in our hanbok (traditional Korean dress) and doing the traditional bow to relatives while wishing them a happy and prosperous new year, who would in turn give us money. Cha-ching!
My sister and I would usually consider ourselves lucky if we received $20 from an elder. It wasn't until years later that we discovered some of our friends would receive upwards of $500 from a single relative!
When Claire gets older, you can be sure that I will be dressing her in a hanbok and drive over to my parents' so that she can partake in this tradition too. And come the Lunar New Year, we will take her to J's family festivities where she will be bombarded with red pockets filled with money. What a lucky little girl!
But for this year, while she is still a baby and too young to understand these traditions, she will merely grace us with her presence, which is all we expect from her but appreciate all the same.
Happy 2011, and 새해 복 많이 받으세요!
You may also like: