We're all adults here…right?
Here's something interesting I found yesterday: an interactive map of the world's average penis sizes, categorized by country (click on map to view).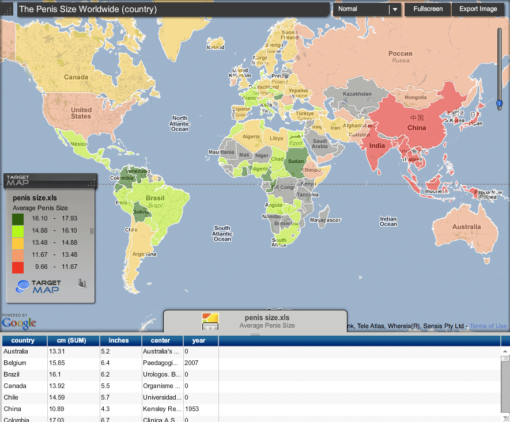 According to this map, Congo has the largest average penis size at a length of 17.93cm, or 7.1in.
And the smallest? South Korea, at 9.66cm (3.8in). Ouch. I can't help but feel a bit sorry for my countrymen.
With that in mind…
Despite the popularity of the phrase "It's not the size that matters; it's how you use it that counts," I am pretty certain that most men continue to associate larger penis sizes with greater pleasure for their partners.
And while I may never fully understand how the male mind works, I can only deduce that the 99% who take a ruler to their danglers do so in an effort to see how they "measure up" compared to their peers.
Most women I have spoken to about this topic — in addition to the articles, polls, and other studies I have read that have broached this subject — agree that the average U.S. penis length (12.9cm, or 5.1in) is perfectly fine when it comes to sexual pleasure. At the average length, it really is the performance that counts.
Besides, most women seem to prefer girth over length anyway.  😛
(And since we are adults, please try to stay adults in the comments!)
Via Geekologie.
You may also like: