Thank you so, soooo much for all the supportive comments and messages regarding my last post. It really warmed my heart to know that so many people care.  🙂
I spent the past few days enjoying some extra time with family. I know that I must be extra vulnerable and emotional due to the pregnancy hormones and the events of the past week, but I can't appreciate enough how great of a family I have and how lucky and thankful I am to have these people in my life. So if you are reading this, thank you.
One of the bad pieces of news I received was of financial nature, and so we've decided to wait a few more weeks to buy my replacement laptop. BUT the good news is that I received my new phone — the Motorola Droid 3 — on Wednesday and I love it!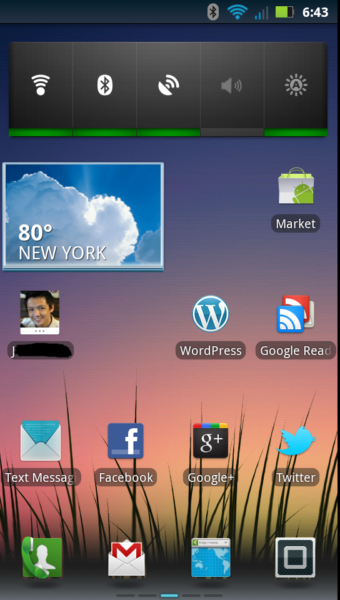 As you can see, even the weather was agreeable
when I set up my new phone. (J's name blacked out)
Granted, I was upgrading from the original Droid so there was a BIG jump in all technical specs. But people! I can run apps like Words with Friends again! (Anyone care to play? My username is geekinheels.) I can have "live" wallpaper without the entire system crashing! I can video-chat, and even take 1080p HD video!
I can also finally run many of the great photo-editing apps that are out on the market today, like BeFunky:

This picture melts my heart. J loves his daughter SO much.
In more Claire news, I only just realized today that she will be turning 1 late this month — September 30, to be exact — and I couldn't help but be a teensy bit proud of my little girl. (I'm also somewhat proud of myself for keeping a human being alive for this long. 😛 ) She's still not crawling and still not showing any interest in walking, but she is maturing in other ways I previously didn't believe to be possible at just 11 months old. For example, this past week she has started to turn her books rightside-up when "reading" them (how does she know which way is up already?), and she continues to share her snacks with Comang, as evidenced in this movie below:
Traditionally, Koreans tend to hold big parties called dol for a baby's first birthday. I have friends who have spent tens of thousands of dollars on their kids' dol's! But as I am uncomfortably pregnant, and as we believe the first (and probably the second and third) birthdays are more for the parents than for the babies themselves, we will be having a small family get-together at my parents' house instead.
It won't be a total washout, however. My mother and my SIL are adamant about having some traditional Korean dol decorations, and Claire will be donning her first hanbok (Korean traditional dress).
I'm kinda glad that the Chinese don't have big first birthday celebrations. I can only imagine the chaos if we had to choose which traditions to pick over the other!
You may also like: