A few weeks ago, I walked out of my office building and nearly screamed in delight to see this: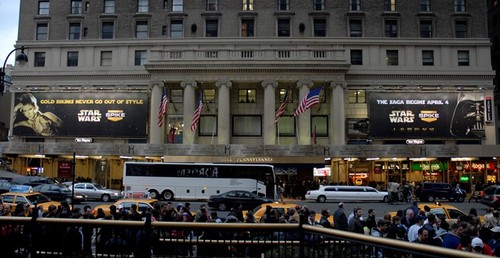 (My camera phone took pretty lousy pictures that day so I was reluctant to post them. Fortunately, I was able to find these photos at TheForce.Net. Although these weren't taken by me, this is the actual view when you walk out of my office building.)
"Gold bikinis never go out of style"…how effing brilliant!!!
A couple of days later, I found this just one block away:

(photo from Gothamist)
Yes, that tappity-tap-tap is the sound of the geek in heels, jumping up and down in excitement. I want to take a bus from this bus stop just so I can live out the experience in its full glory.
Wait, it gets better.
A few days later, I saw ANOTHER ad on the train. I burst out laughing, forcing quite a few morning commuters to look up in surprise.
I did a bit more searching and found two more ads in this series: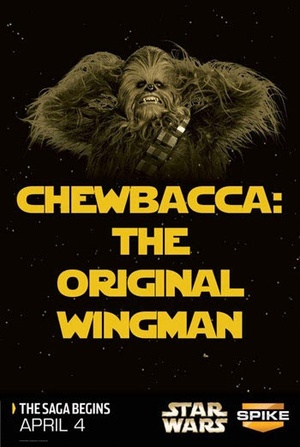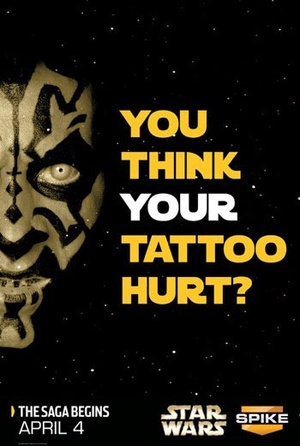 (all three images from SlashFilm)
I have always been a sucker for good advertising and this is no exception. So Spike TV is airing all six Star Wars episodes. Big deal, right?
However, you have to realize that the product they are trying to sell is one of the best-known film franchises in history.
How do you sell something when the majority of your target audience has already purchased the product (or in this case, seen the movies)?
How do you kill that which has no life? (Sorry, stupid South Park analogy.)
It is precisely for this reason that I have to give Spike TV and its advertising group major props for this series of ads. They have taken a popular and revered product and re-packaged it with a fresh and comical twist. They have managed to target both Star Wars fanatics and potential new arrivals alike: the fanboys are reminded of the little things that made them fall in love with the franchise in the first place, while the newbies are drawn in with hints of sex, camaraderie, pride, and humor.
Bravo, Spike TV. Well done. 🙂
You can visit the Spike TV Star Wars homepage here.
You may also like: