One of my biggest fears about becoming a parent to more than one kid is that I will, one day, find myself loving one child more.
Is it possible to love all your children equally? Absolutely. But as today's Motherlode article, titled "Do ALL Parents Love One Child More?" states, MOST parents end up preferring one child over the others.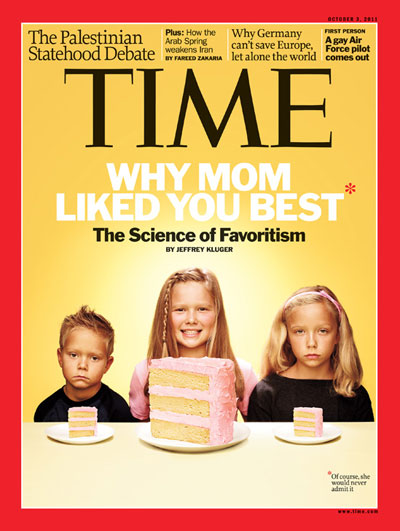 This week's Time magazine which discusses the science of favoritism
And I think that I have a valid reason to be concerned, because I have a predilection for — subconsciously or not — personally favoring the generally less favored.
Case in point: a friend used to be the proud owner of two Yorkies. And while both were adorable in their own ways, it was clear that one was more (for lack of better words) aesthetically pleasing to the eyes. Not only that, she was more friendly and obedient than her sister, who, when she was not being her moody self, tended to keep to herself.
And whenever I found myself in the presence of these dogs, I always gravitated toward the less-cute, surly sister. I would give her more attention, try harder to win over her affection, and gave her the treats first.
My friend was perplexed by my behavior. "It's so funny how you interact with my dogs, because everyone else prefers the other one! It's like you're compensating for the lack of attention that the unfriendly one receives."
Thinking back to my interactions with other children when I was young, as well as my relationships with my former students (I used to give piano and violin lessons, tutor students for the SATs, and was a youth group teacher at my former church), I have found that this has always been the case. I work harder with those who are generally less favored by society. With those who are obviously struggling more than others, and with those who tend to be more neglected or ignored.
Again, I do not seek to do these things. I guess it's just the way that I am.
With all this in mind, I can't help but wonder if I will be the same with my own children. Will I favor the one who is less popular among her peers? Will I give special treatment to the one who is less talented? Will I love this this child more?
And, my biggest fear of them all: will I end up neglecting the other child in an effort to build up the other one?
I guess that like practically all parenting 'what-if's, only time will tell, and that I will just have to do the best that I can to make sure that all my children feel equally loved and attended to.
But I do know one thing: I will never tell a child that I love him/her the most. I actually know some people whose parents have confided in them this admission, and I just don't see how this could be beneficial to the child.
Do you share with me the fear that you will end up preferring — and loving — one child over the rest? How do you plan on handling it if it happens?
You may also like: