Originally, J and I had planned on using the bassinet that comes equipped with this Pack 'n Play for the first couple of months of the baby's life; we would have the baby sleep there beside our bed for easier night feedings and as an extra precaution against SIDS.
However, upon further examination of our limited space, we decided to get a freestanding bassinet instead and decided to forgo the Pack 'n Play.
Yesterday we made a trip to BuyBuyBaby (Did you know that you can use Bed Bath & Beyond's 20% off coupons there? Score!) and picked up the Carters® Classic Comfort Wood Bassinet. (I don't know why the colors look so horrible on the website. As you can see in the picture below, the wood is a dark espresso finish and the fabric is nicely muted.) Since we have yet to clear the guest room — and thus unable to assemble the crib — J proudly took it upon himself to carefully put together our first piece of furniture for the baby.
He tore apart the packaging and scrutinized the assembly instructions. He gathered the required tools and got to work.
15 minutes passed. 30 minutes passed. I looked over once again to see him still hard at work.
Finally, I felt compelled to ask, "Are you being extra careful and taking extra long to build the bassinet because you know the baby will be on it?"
"Yes," he grunted back.
"Meanwhile, you barely looked at the instructions for all our other pieces of furniture and spent the bare minimum amount of time and effort assembling them…"
"Yeah, I kinda half-assed those."
"I see how it is."
"Of course. Where the baby sleeps is important!"
"More important than where your wife sits and lies?"
"Stop putting words in my mouth, woman!"
Eventually, he finished the bassinet and proudly set it next to our bed. He showed me how to lock the wheels and fold the top shade. I had to admit that it looked nice, and that my husband had done a good job choosing and assembling our baby's place of sleep.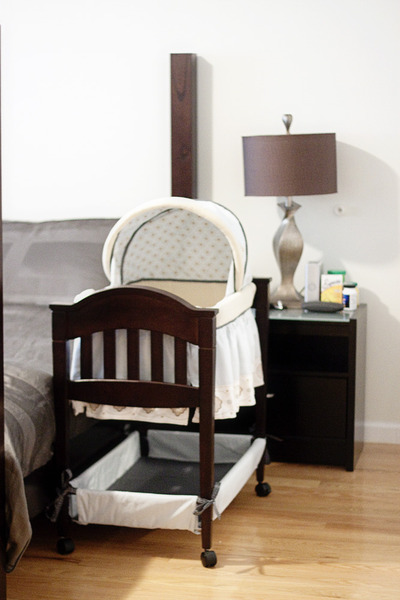 Later on, J told me that he couldn't help but smile as he saw the bassinet standing beside our bed. This is our home's first visual cue of an impending little one, you see.
You may also like: