Here are the mascots of the 2008 Olympics, which is being held in Beijing:
The "Five Friendlies" represent the largest number of mascots since the practice began in 1972. You can find out more about them at http://en.beijing2008.com/37/03/column211990337.shtml.
The website includes a history of the Olympic mascot(s), and immediately my eyes were drawn to Hodori, the mascot of the 1988 Seoul Games: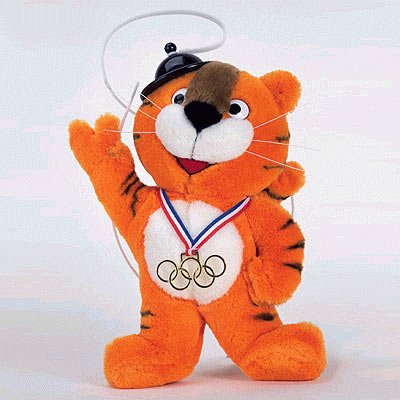 I don't think I'm being biased in believing that he's the most charismatic, attractive, and well-designed of the 9 featured in the "Olympic Mascots of the past Olympiad" section. Which do you think is the best?
Looking at Hodori brought back fond memories. Hodori was everywhere right before I came to the US (my family immigrated in spring 1988). Thus, my fondest and most vivid memories of my former life in Korea include Hodori.
But where was Hosuni? Why is she not listed alongside Hodori on this Olympics page?
Hosuni is the female couterpart of Hodori. I remembered her as well, and became curious as to why she was not included. Another search told me that although Hodori and Hosuni were the official dual mascots of the '88 Seoul Games, Hosuni was rarely seen due to marketing mistakes. Some authors even pointed fingers to Korea for being sexist.
I had trouble finding pictures of Hosuni online. Here's one with both Hodori and Hosuni:
Yep, they definitely are the best Olympic mascots ever.
You may also like: