A couple of weeks ago, we had some friends come visit with their (almost) 2-year-old girl. As the men engaged in their own conversation, the fellow mom turned to me to ask how I was adjusting to life with Claire.
"Things were rough in the beginning, but it's certainly getting better. It's amazing how much your life changes once you have a baby. Even taking a dump has become a timed sport."
Don't ask me why I used my dookie as an example. I guess that's just the way my mind works.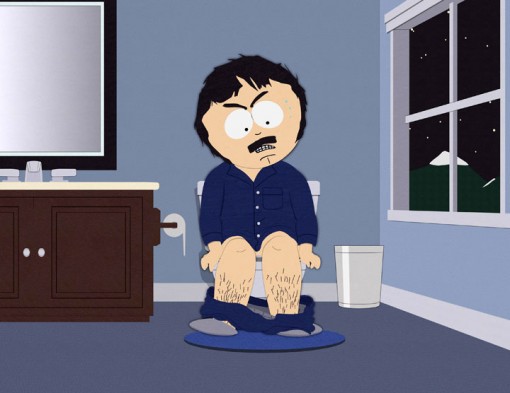 I heart Randy Marsh. I am continually telling J that he must act exactly like him when our kids get older.
"I've almost trained my body to only do #2's in the evenings, when J is home," I bragged. "Or I try to hold off as long as I can until the baby's sleeping. If it's an emergency and I have to go THAT moment, I strap Claire into the Baby Björn and actually poop while wearing her."
I took a sip of water, quite pleased with myself.
"Psh, you're making it so much harder than it needs to be," my friend told me. "Until my baby could roll over, I just placed her on the bed and kept the bathroom door open so that I can keep an eye on her while I was pooping. After that, I put her on the bathroom floor. And when she started crawling, I just put her in the bathtub. Even now, I put her in the tub and give her some crayons and tell her things like, 'What a pretty flower, honey!' while I'm pushing."
We both had a good laugh over the conversation, and I reminded myself to try out my friend's more relaxed approach to pooping with a baby.
And wouldn't you know it? Claire did just fine playing in her activity gym while I did my business with the door open a few feet away.
How do other moms do #2's with an infant?
(I realize that this post may be entirely too TMI to some readers. And for that, I apologize. 😎 )
You may also like: