Today, El Steve-O donned his customary black turtleneck and jeans and wowed Apple fanboys worldwide as he introduced the iPhone 4 at the WWDC 2010.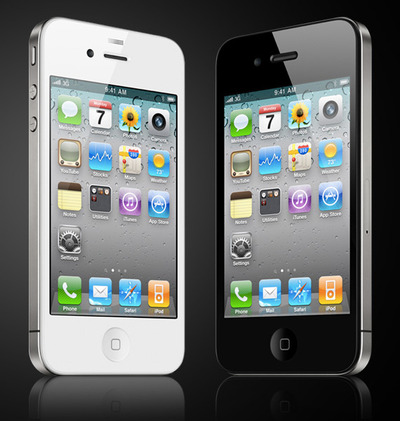 I personally like the new hardware design — the more angled shape, the stainless steel band, and front-mounted camera — and think the white version in particular looks pretty damn sexy. Furthermore, the "Retina Display" looks mighty tempting…
However, I refuse to switch over to the iPhone until AT&T loses its current monopoly (at least in the U.S.) on the world's most popular smartphone. I have had AT&T in the past and hated it; the 30% dropped call rate in NYC doesn't help matters much either.
Besides, J and I are an Android couple.

Will YOU be getting the iPhone 4?
A few weeks ago, J actually asked, "Would you divorce me if I decide to get the new iPhone?"
I let out a big chuckle and replied that of course I wouldn't divorce him — I might call him a sellout for a week or two, but I understand that my husband is a techie and if the iPhone suits his wants and needs, by all means, go for it.
"Hmm…I guess I'll wait for WWDC and see what it has to offer."
And you know what? After watching today's keynote and reading up on all the iPhone 4 specs, he now says he does not want the iPhone 4. He still prefers Android to the iPhone OS (or the iOS, as Apple has just announced).
J has been working like a dog in the past few months due to a new product launch at his company. He even had to put out a few fires while on our babymoon, and has been working until 2-4am almost every night.
Thankfully, this week is THE launch week and so will be his last one working as a programming monkey slave for quite some time. And while he likes his job, I know that he only works this hard to support our growing family. All while I sit on my ass all day preparing to be a SAHM-slash-freelancer.
So I decided to sell some of my stuff to buy him a new phone (he really needs a new phone)…
…the only problem is, I can't decide which phone.
And J is no help either, because he's so damn picky and says I should just keep the money for myself. Aish! I WANT to buy him a new phone!
Are there any other Android fans out there?
Which phones would you recommend for my husband?
As for anyone who is interested in the iPhone 4 but can stand to wait a few months, I would advise you to wait. Because if the rumors swirling the interwebs are true, there's something coming within the next 6 months that has AT&T worried. Worried enough to offer a very generous iPhone upgrade option for existing customers, so that they can lock them in for another 2-year contract.
Will AT&T's exclusive hold on the iPhone finally come to an end within the next six months?
You may also like: