It's been three days since I promised to blog regularly again. But have I written anything? No. You probably thought I disappeared again, didn't you?
I actually have a good reason for not writing…
My laptop's battery life has been less than stellar lately, so I took it into the local Apple Store.
It's never a good sign when the diagnostic report reads, "REPLACE NOW."
I've had MacBook Pros since 2001. (Back then, they were called PowerBooks. Remember those?) As such, I can remember clearly the good ol' days when the batteries on Apple laptops were removable via a simple latch.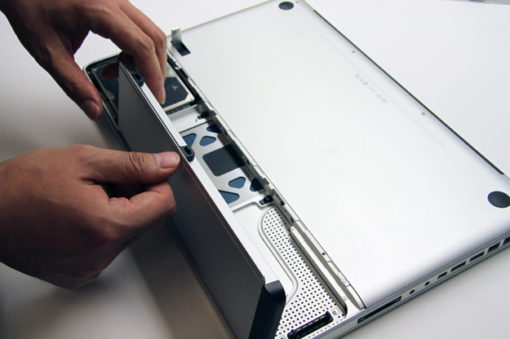 Apple has changed a lot since then. Over the years, they have made their hardware less and less accessible to those looking to fix or upgrade their devices themselves, or via a third party.
In fact, Apple is currently fighting 'right to repair' legislation which would give consumers and third-party repair shops the legal right to purchase spare parts and access service manuals!
Back to the point. Even just a few years ago, this DIY-er would have bought a compatible battery online, screwed open the casing, and replaced the battery herself.
Now, I cannot. According to Apple, they would need to tamper with the entire bottom half of the machine JUST TO REPLACE THE BATTERY.
The entire process is so complex, in fact, that they cannot do it themselves at the store. They need to SEND THE ENTIRE LAPTOP AWAY, again, just to replace the battery.
Where does this leave me? Sans my beloved laptop for 3-5 business days, plus delivery time.
The good news is that the repair — which costs a whooping $755+tax…again, JUST TO REPLACE THE BATTERY — is fully covered under my AppleCare protection plan.
(I highly recommend AppleCare for anyone who owns an Apple device. It's saved me so much money over the years. One time, they gave me a brand-new MacBook Pro, FOR FREE!)
And this is the long-winded reason why I have not blogged. I am currently typing this post out on my phone, which is not an ideal medium for blogging, at least for me.
So for now, I bid adieu for another few days. Here's something to tide you over until I return: a short clip of Aerin reading a Level 3 book all by herself (Level 3 is designed for grades 1-3; Aerin is currently in pre-K)! This is the same girl who had to have speech and cognitive therapy sessions for a year!
You may also like: