A few weeks ago, the American Atheists caused quite a stir in the NY/NJ area by placing this billboard at the entrance to the Lincoln Tunnel in New Jersey:
The Catholic League soon countered with its own billboard, aptly placed at the New York entrance to the tunnel: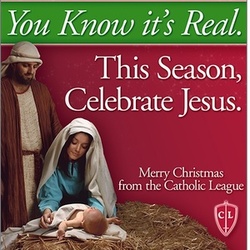 Now it is no secret that I am a Christian, so I confess that I was a bit miffed about the Atheist billboard. However, I was no happier with the Catholic League's response (although it must be noted that the billboard was paid for by a donor who specifically instructed that the money should be used for this purpose).
Christmas has always been a religious holiday for me. When I think of Christmas I immediately associate it with the celebration of the birth of Jesus, not Christmas trees, Santa, or presents.
(Yes, I am well aware that no one is certain of the exact date of Jesus' birth, and that the Church borrowed the date from pagan holidays in order to make the transition to Christianity easier for early converts.)
So as much as I love this holiday, I do not feel the need to decorate my house or exchange gifts. Do I do so? Yes, but mostly because it has been ingrained in me by the culture that raised me. But with each ornament that is placed on the tree, with each ribbon that is wrapped around a gift, I do my best to remember the reason behind Christmas and be thankful for all that God has given us, especially the gift of His Son.
I know that many of my friends celebrate Christmas but purely in a secular way. Meaning that they put up a tree, exchange gifts, and maybe even play Christmas songs in the house, but they do not associate the holiday with the birth of Jesus.
I do not look down on those who do this. However, with the above billboards in mind, I cannot help but wonder if the non-religious folk who celebrate Christmas ever feel weird that they are celebrating a holiday that is so deeply rooted in Christianity? If so, do they act upon those feelings of guilt/annoyance (whatever they may be), or do they choose to ignore them?
You may also like: