Yesterday J surprised me with tickets to Video Games Live at Beacon Theater!
According to their website, Video Games Live is:
An immersive event created by the game industry featuring the best game music performed by top orchestras and choirs combined with synchronized lighting, video, live action and audience interactivity. The first and and most successful video game concert tour in the world.
This will be a long entry full of photos and links. So before I go on any further, let me cut to the chase:
Video Games Live was the best concert I've ever attended.
Would it be sad to admit that VGL was the most fun I've had in months? Well I'm not afraid to admit that SO THERE.
I had checked the Beacon Theater website in addition to the VGL site to see if photography was allowed at the event. I was delighted to find that not only does VGL allow photography and videography, they encourage it and urges fans to post pictures and videos online.
Sounds like my kind of concert!
I enthusiastically brought along my new T1i, eager to try taking some low-light action shots as well as try out its HD video recording.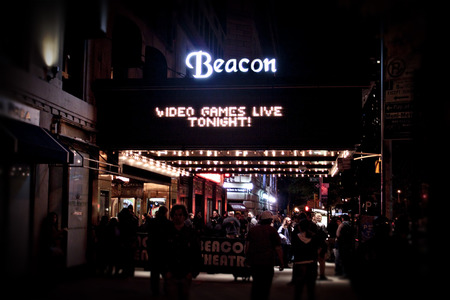 However, upon entrance, we were informed by security that the use of SLR/DSLRs were NOT permitted. Something to do with the press who were present and the conflict of interest, yadi yada yada.
Those bastards!
Luckily, we had brought along my sub-compact point-and-shoot (so please excuse the crappy photos accompanying this post).
We entered the newly-remodeled theater to find that the event was already fully underway. What we hadn't known is that VGL features a pre-concert event featuring meet-and-greets, costume contests, competitions, and giveaways. D'oh! Let that be an important lesson to my future self and those of you who are still reading along:
If you are attending VGL, make sure to get there a few hours early!
J and I sadly looked on as the costume contest continued up on stage. These costumes were not as impressive as the ones you'd see at venues such as Comic-Con, but excellent nonetheless.
Pretty soon, the lights dimmed and the main attraction began…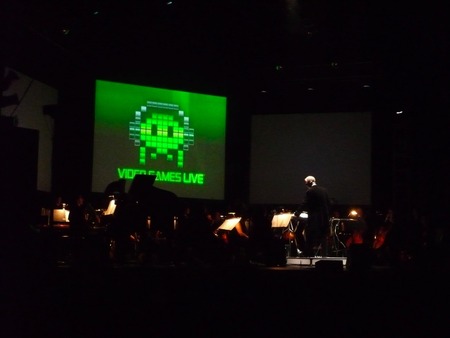 Here is a short, 18-second clip of the first set. As you can see, this is not your typical symphony concert. The lights and accompanying video created a beautifully choreographed visual background to support the auditory experience.
Some other highlights from the night included…
An arrangement of music from the Final Fantasy series, played by the one and only Martin Leung! If you recall, he gained worldwide recognition via YouTube for playing the theme to Super Mario Brothers on the piano…BLINDFOLDED.
We even held a Skype chat with the great Raph Baer, who invented the video game home console!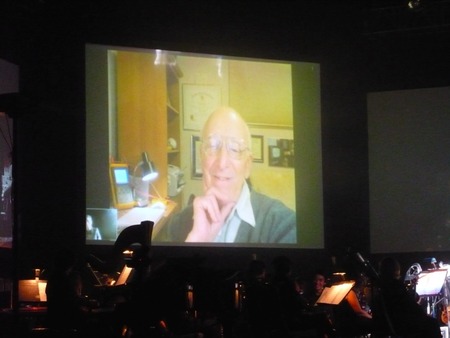 Koji Kondo, celebrated video game composer (best known for his work on the Mario and Zelda series):
The second act was a bit more rambunctious (and as a result, more FUN) than the first. There was a lot more audience participation — including a performance from an audience member who had won the Guitar Hero challenge during the pre-concert festivities — and a setlist that derived from more current, popular games. Martin Leung reappeared onstage to prove that he can, in fact, play the theme from Super Mario Brothers blindfolded. After this amazing performance, he even took requests from the audience!
Laura Intravia, aka "Link Flute," also made multiple appearances during the night.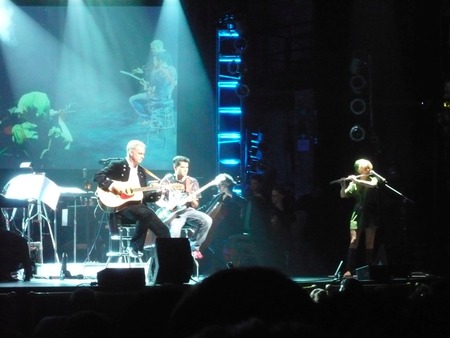 The concert ended with a bang: a Blizzard-themed montage that included exclusive footage and music from the upcoming Diablo III. But it didn't end there. The three encores were some of the best performances of the night: music from the Castlevania series, Final Fantasy VII (with cosplay pictures running in the background), and Chrono Trigger!
All in all, Video Games Live was an amazing experience and I definitely want to do it again next year! I highly recommend that you check out the tour dates and catch a performance for yourself!
You may also like: