I received an overwhelmingly positive response to the Geek in Heels DVD Player Giveaway, so thank you to all who entered!
Unfortunately, I could not count all entries as they did not adhere to the following rules:
Only one comment entry per person would be entered, however…
Twitter entries were counted as many times as tweeted
Comments without a valid email address were not counted (how would I contact you if you won?)
I received a surprising amount of entries after yesterday's 12pm (that's noon, not midnight) cutoff time. Unfortunately, those did not make it to my entries spreadsheet either.
So, without further ado, the winner is…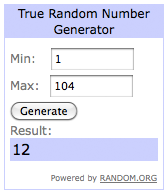 Congratulations to Jessica of SweetVenus.org!
I will be contacting Jessica shortly to get her shipping address, and send out her new Sony DVP-NS710H/B 1080p Upscaling DVD Player asap.
Again, thank you to all that entered…and stay tuned for more giveaways!
You may also like: