Twitter debuted its new homepage today and I'm digging it!
>
Compared to the old design, it is a lot more modern, interactive, and easier on the eyes.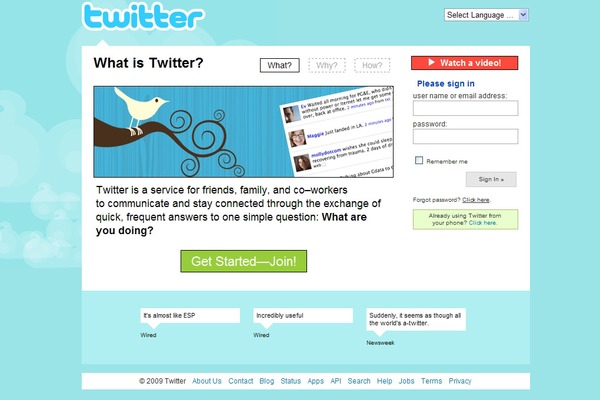 How do you like the new design?
J has been tracking startups since the dawn of the internet, so he joined Twitter shortly after it launched in 2006 – years before it became a household name.
(He also joined Yelp when it first launched, way before most people even heard of it. What can I say? He has a knack for picking good startups.

)
He bugged me relentlessly about creating my own Twitter account, promising that it will be the "next big thing." However, I resisted – I only knew two people who were tweeting! Besides, I had my Facebook to keep me updated on my friends' lives…right?
After a while, I created an account just to shut him up. I used it a few times and forgot about it, until just last year when it started to gain a foothold in internet culture as well as mainstream society.
Soon, it seemed like everyone and their mothers were tweeting. Companies chirped at me to buy their products. Marketers messaged me to tout the new "it" products. I even formed new friendships through this wonderful world limited by 140 characters!
Feeling nostalgic, I decided to find out what my very first tweet was using the spiffy website MyTweet16:
My first tweet was not as exciting as I thought. But I like to think my first five tweets were good representatives of what was to come, no?
When and what was your first tweet?
Three years later, J is just as addicted to Twitter as he was on the day he first joined. When he proposed and I said "yes," the first thing he did (after the requisite hugging and kissing) was tweet, "Woohoo! She said YES!!!" He says that when we get pregnant, one of the first things he will do is announce the pregnancy via Twitter.
He's totally earned the Twitter mug I got him.
You may also like: