Does anyone else lay out their art supplies – whether it be tubes of paint, pastel sticks, or colored pencils – and organize them by color? And after they're all prettily arranged by their color families, then hue, then shade…do you ever just sit back and admire your collection?
Because I don't.
The Felissimo Design House has launched the 500 Pencils service, which delivers 25 colored pencils a month for 20 months – until you have acquired all 500 colored pencils in their collection – for $33 a month.
Forget wine-of-the-month, cheese-of-the-month, heck – even beer-of the month clubs. This is the perfect monthly collection subscription service for me!
Not only does the 500 Pencils service provide this visionary service, they also carry marvelous display cases for your pencils. Check out the Orchestra, which mounts the pencils in sets of twenty…
Its big brother Aurora…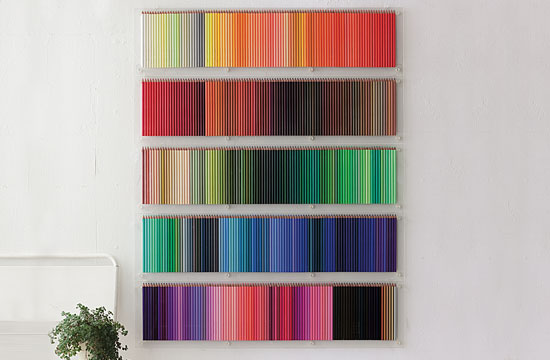 The flexible, bendable Color Wave…
And my personal favorite, the Flower Vase.
"Why do two colors, put one next to the other, sing? Can one really explain this? No. Just as one can never learn how to paint."
-Pablo Picasso
Via Luxist.
You may also like: