When I had written a short update on the morning of Aerin's dol, I had been worried about Hurricane Sandy's impact on the party.
But while we could not hold my younger daughter's first birthday at a banquet hall as we had originally planned…
And more than half of our guests could not make it due to the impending storm…
(Together with the fact that we ended the party early in hopes that everyone will get home safely…)
We ended up having a great time.  😀
First, the decorations. I only decorated our dining area (we don't exactly have a dining room, per se) because I only had one week to plan and prepare everything.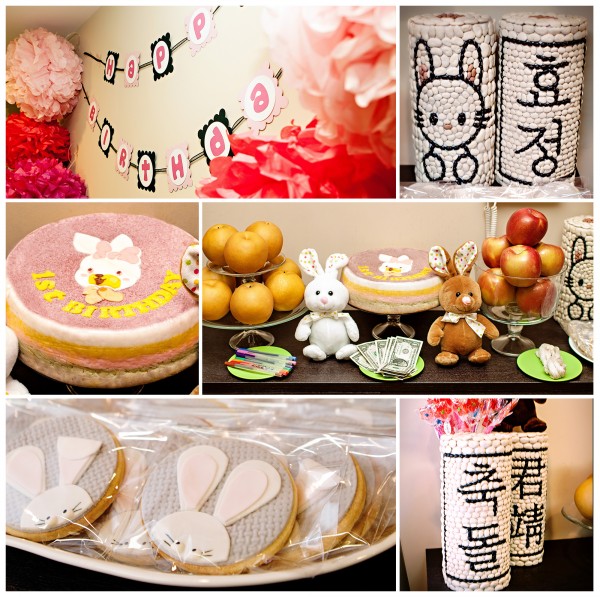 As stated in a previous post, I had DIY'ed Aerin's dol towers using beans glued onto paper towel rolls. Those suckers were a lot of work, y'all! I stayed up late every night in the week preceding the party to finish each tower — if I had more time, I would have made some additional ones with colorful gumballs and/or other candy, but this was all I could do on our tight deadline.
(I should also mention that making the towers was extra hard for me because my hands shake from my medication. 🙁 I am so grateful for my SIL who made Claire's dol towers last year. Only now, with multiple burns from the hot glue gun, can I fully appreciate all the hard work she put into them.)
We had a very loose rabbit theme because Aerin was born in the year of the rabbit. (She does not have a lovey like Claire does; if you can recall, we had giraffes everywhere for Claire's dol!.) I also went with a lot of pink because that was the color of her hanbok, gifted by my BIL & SIL who also purchased Claire's hanbok last year.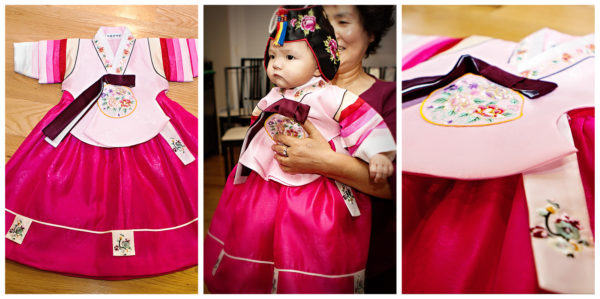 Claire wearing her hanbok. My mother let the skirt out a little because it is now just a bit short for her.

I think this was the first time Claire had a cookie. You can see
the joy in her face as she gorges on the sugary treat.
Aerin doing her doljabi. As with Claire (and me and my sister when we were little), we only laid three choices out: yarn for long life, pens for smarts, and money for riches. What will she choose?
She went straight for the pens! I love her expression in the picture below.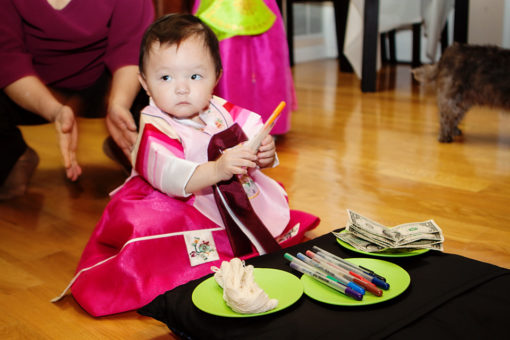 And if you want to watch a short video of the doljabi, here it is:
One of my biggest regrets about Claire's dol was that we did not get a family picture. As such, I made sure to get a family picture this time around…but none of them came out well! Out of 10+ shots, the below was the ONLY one where more than one person was looking at the camera and not blinking.
A picture of me and my girls. I love them so much.
More family shots. The first one is with J's parents, and the second with mine.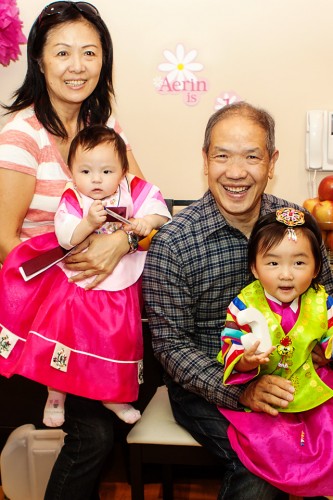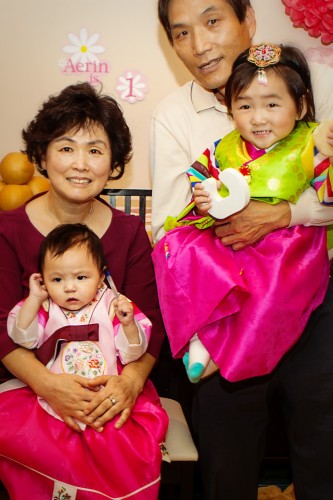 A collage of some of the kids who attended the party…
Lastly, a birthday cake shot! However, the cake wasn't for Aerin — it was for my sister (whose birthday was the day of the party) and my mother (whose birthday was the day before).
Thank you to all who braved the weather and came out to celebrate Aerin's birthday! Neither of my daughter's dol's turned out the way I had originally planned, but I gotta admit that these intimate gatherings were sweet and memorable. After all, who can not feel loved when surrounded by your dearest friends and family?
You may also like: