Welcome to this installment of Bloggy Thursdays, where I share with my fellow bloggers tips and tutorials to maximize and better your blog. While I do not consider myself an expert, I do like to think that after 10+ years of blogging — in addition to my technical knowledge — I know more than the average blogger when it comes to making your blog more appealing to readers.
Do you have any comments, questions, or topics you'd like to see covered here? Please send me a message via my contact form. Enjoy!
---
Today's Bloggy Thursdays will not feature a tip. Rather, it will answer a question…
The second most popular question I get asked about blogging is: "How much money do you make from blogging?"
Last August, I had posted my revenue from the first month of monetizing this blog. (If you are too lazy to click over, the figure was $307.24.) The sum should have gone way up since then, right?
Wrong.
Well, not entirely. The actual answer is more complicated than that. Because, in a nutshell, life happens. Page views will not always go up. Advertisers will come and go. Your life outside of blogging may make an unexpected turn and you may not have the time or resources to devote to your blog as you did before.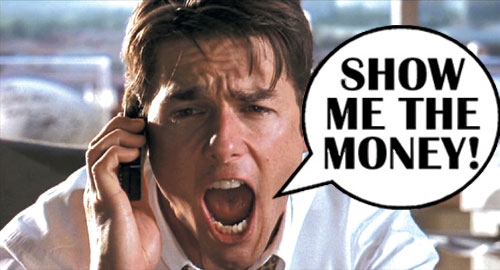 What good is a blog post about making money from blogging without a clichéd picture
to accompany it?
Since August, the money I have made from blogging has gone up and down. I think that if I had to state a number, I would say that I made, ON AVERAGE, $250/month.
There has also been a month when that number has gone down to $150. There was also one month when I made over $700. Yes, $700 is a lot of money (at least to me). But when I think about it, it's way less than what I made in one week when I worked full-time…and back then, I would blog while at work!
The last person who asked me this question was genuinely curious, because she was thinking about becoming a full-time lifestyle blogger.
I relayed the above information, and added, "Don't quit your day job."
Disclaimer: I am fully aware that I *could* be making more money if I could devote more time and energy to this blog. But as the situation stands, I can't. And while I know that my blog has been suffering some as of late, I continue to blog because it provides me some semblance of order, in addition to some WORK I can control, in my chaotic life. And, as with all other nuggets of wisdom (or stupidity, depending on your POV) I share about blogging, please take this with a grain of salt because I am by no means an expert.
I bet that you are now wondering what THE most popular question I get asked about blogging is…and for that, you will need to wait for a future Bloggy Thursdays. 😉
You may also like: