When J and I were planning our wedding, we were pleasantly surprised to find that our venue would provide a cake at no extra cost.
SCORE! We thought. One less thing to plan, one less vendor to deal with, and one less thing to worry about.
We chose our cake from an album of "typical" wedding cakes, chose the flavor and filling, and that was that.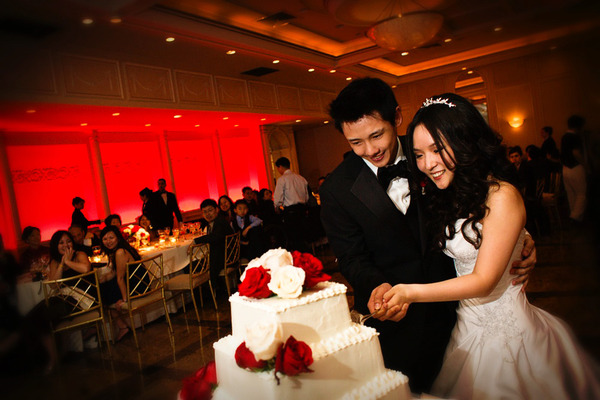 photo by Danny Weiss
At the time, we thought that spending the extra money for a spectacular wedding cake was a waste of money. Cakes are to be eaten, not admired. We were sure that no one would even notice if we were to spend an extra $1,000 on a cake.
And you know what? I'm sure that 99% of our guests did NOT notice. Most of them did not get within 5 ft of the cake, and even if someone noticed the slightly uneven frosting, they certainly did not say anything.
However, I cannot help but experience a little cake envy whenever I see a sensational wedding cake. And with the growing popularity of over-the-top, unique, and/or whimsical wedding cakes (and with Carlo's Bakery from the TLC show Cake Boss just down the street), it's hard to avoid such images.
What kind of cake did/will you have at your wedding? Were you happy with it?
If I had the extra money, I probably would've invested in a nice groom's cake for J — something geeky like video games, or somehow related to his favorite sports team. I'm sure he would've loved even a gruesome cake like this, designed after the game Left 4 Dead: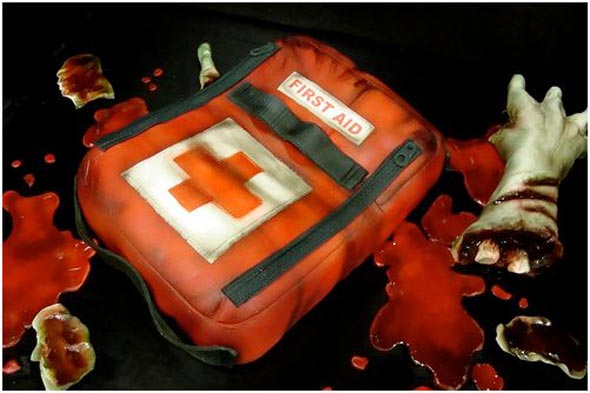 via Nerd Approved
At the end of the day, I force myself to remember that a cake does not make or break a wedding. And that if we had gotten a magnificent cake, we would have been reluctant to cut into such a work of art — even if it meant cutting into zombie parts.
You may also like: