I was digging through the closet the other day when I came across an item I haven't seen in years: a royal blue box with the words STUART WEITZMAN embossed across the top, housing the shoes I wore on my wedding day 5 years ago.
At $295, the Stuart Weitzman Dubonnet is the most expensive pair of shoes I own. (I may love heels but most of my shoes were under $100.) I only wore them a handful of times: during wedding dress fittings, practices for our first dance, and — duh — on the wedding day itself.
I am so glad I decided to splurge on these shoes, because they're probably the most comfortable pair of high heels I own. Even with a 4½" heel, I was able to start my day at 8am, stand around, make my way through Central Park, walk down the aisle and be part of a 30-minute wedding ceremony, greet guests, and dance my tooshie off until 10pm without my feet ever being in pain.
Needless to say, these shoes are no longer in pristine condition. But they are still certainly wearable and hold with them many fond memories.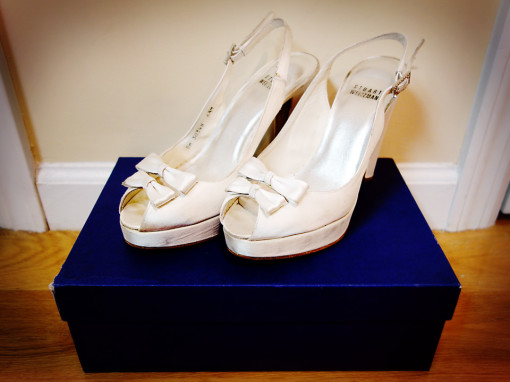 See that red spot at the bottom of the sole? Since we had red flowers in my bouquet, my bridesmaids' bouquets, and in our centerpieces, I can safely assume that it's a remainder from our wedding day.
(I also just remembered that I had gotten them re-soled before the big day, for better traction.)
The question remains now as to what to do with them. I can have them cleaned and stored, but I generally don't like unused items lying around the house. (My wedding dress is at my parents' house, and although it currently sits unused, I have no problem allowing my girls to play dress-up with it when they get older.)
I asked my sister, who is getting married next month (!), if she would like to borrow them, but she says that the heels are too high. (She was blessed with the better genes by standing 4″ taller than me.)
I could sell them, but is there a market for used wedding shoes? Could they even be sold for a third of the original purchase price?
I've also thought about dyeing them a more practical color like black or brown so that I can wear them at future events, but the idea seems so…permanent.
What would you do? What did you do with your wedding shoes?
You may also like: