J calls Nic Cage "the king of B movies," and I'm sure many would agree.
I confess I quite enjoyed some of his prior action flicks like The Rock (cue Sean Connery saying "Welcome to The Rock"), Con Air ("Put the bunny back in the box!"), and Face/Off ("I want to take his face…off.").
I really liked both National Treasure movies too.  😳  And Family Man? A severely underrated film.
Then there's Adaptation, which I consider Charlie Kaufman's greatest (and that's saying a lot because all his movies are effing brilliant), and Kick-Ass, which blew me away.
As such, I can't quite agree with ALL the placements on the matrix below, but I think it did a pretty good job. What do you think?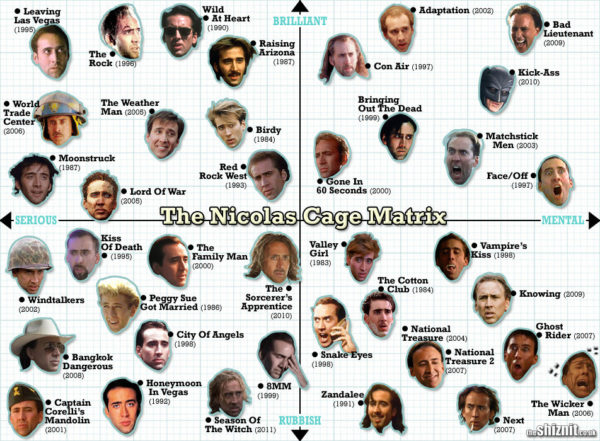 I also feel the need to add that Ghost Rider should be off in a corner so right and to the bottom that it might as well have its own graph. Yes, it was THAT BAD and I will never forgive my husband for making me sit through it not once, not twice, but THREE times.  👿
Via Reddit.
You may also like: