Welcome to today's installment of Cool Tool Tuesdays, where I feature a favorite item from my life and spotlight it so that others who are not familiar with the product may also benefit from it. A cool tool can be any book, gadget, software, hardware, material, or website that I have personally tried and love.
Do you have any questions about today's cool tool? Would you like an item featured in the future? Please leave a comment to this post, or send me a message via my contact form. Enjoy!
---
Today's cool tool is not actually a tool, but a food — more specifically, a fruit. It may, in fact, be my new favorite fruit! Introducing the SUMO CITRUS…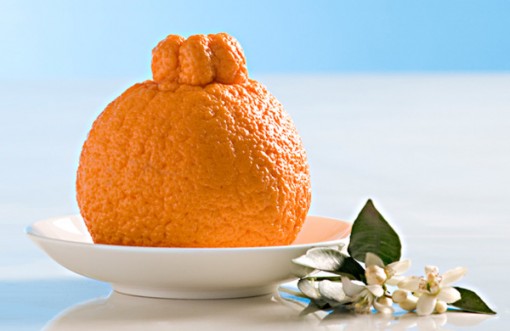 The Sumo Citrus is a Japanese hybrid of mandarin, Satsuma and navel oranges. With a distinctive top knot that is reminiscent of a sumo wrestler's hairstyle (hence the name), it was developed over the span of 30 years and recently became one of the most prized citrus fruits in Japan and Korea, fetching up to $8 per fruit! Called the Dekopon in Japan and Hallabong in Korea, it is finally available in the U.S. thanks to a grower in California who uses the same exact standards of the original Japanese farmer.
According to its website:
SUMO CITRUS® is unique in that it is large, seedless, exceptionally juicy, very sweet and easy to peel. Its homely exterior belies delicious individual sections bursting with delicate flavor.

The unique size, shape and look of SUMO CITRUS® distinguish it from other mandarins.

Its Asian origin makes it exotic, but since it is grown here in California, food safety and freshness are ensured at a fraction of the price that it costs in Japan.
My mother and I happened upon this fruit at a trip to our local H-Mart (a Korean grocery chain) over the weekend. The store had a big display set up with a girl giving out samples of the fruit — how could we resist? Once my mother had a bite, she gave a piece to Claire (who responded with her ham face) and told me that I had to try it too.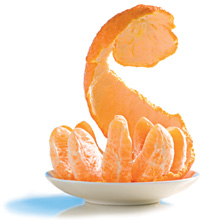 The fruit was a bit pricey at $15 for a box of 7, but we were already sold. We didn't even know about the other qualities of the Sumo Citrus that I will be describing below, but the taste alone was THAT GOOD! It is the PERFECT blend of sweet and tart, with a surprising amount of juice that will absolutely delight your taste buds.
When I shared the fruit with J later that night, I was pleasantly surprised to see how easy it was to peel. The bumpy and loose rind made it exceptionally easy to prepare for eating, and sectioning it was practically effortless due to the very little amount of albedo, or rag (the white part of citrus). And unlike most other citrus fruits, the Sumo Citrus left very little to no juice on my hands and my fingers did not become sticky.
According to SFGate, this is only Sumo's second season, and is only expected to run until the end of March. So what are you waiting for? Go check out the list of retailers that carry Sumo Citrus, and go try this deliciousness for yourself — I guarantee you won't be disappointed!
You may also like: