I'm pretty cheap when it comes to most items but the three things I splurge on are gadgets, handbags, and anything that goes on my face…aka beauty products. And as a natural researcher by heart (and trade), I research and test items from all three categories to death before making any purchases, especially if a lot of money is involved. While I can go on and on about all three topics, I decided to share my all-time favorite (meaning I never stray from these) beauty products with my readers.
(Before I start, I want to say that I have an extreme case of combination skin. My t-zone is a natural oil well, but my cheeks and chin can become so dry to the point of flakiness. So while some of these products may work well for other people with combination skin, it may not with others.)
My favorite lotions and creams:

Clarins, I believe, has one of the best skincare lines out there. I've tried almost all major skincare lines in pharmacies and department stores (aside from the uber-expensive ones) and Clarins beats them all. I alternate lines depending on season, and I usually use one lotion/cream for night and another with SPF in the morning.
Clarins also has a great men's line. I've even converted my father, who's very picky and sensitive about lotions. He's tried almost every men's line out there and swears up and down that Clarins is the best he's used.
My favorite exfoliator: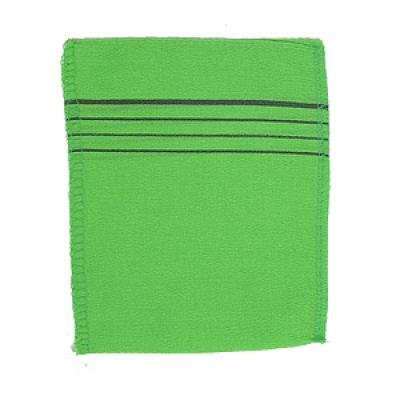 The Korean ddae soo gun (exfoliating rag). These are relatively cheap and you can buy them for less than $1 at almost any Korean market. I use this to exfoliate my entire body once a month and my face daily. Since new ones can be rough, I usually rub it across rough surfaces before using to break them in a little. This is not recommended for anyone who has sensitive skin. And although I use it on my face every day, I do it VERY gently with a light hand.
My Favorite Cleanser:
The Prescriptives All Clean Fresh Foaming Cleanser For Normal Skin, $21 for a 6.7oz tube which lasts about 3 months with twice-daily use. I've tried soooooo many cleansers out there (practically everything at drugstores as well as Sephora) before finding this one, and I've stuck with it for the past 5 years. It has everything I look for in a cleanser: some foaming action but not too much, unscented, and leaves my face squeaky clean without it being too dry.
My Favorite Eyeshadow Primer:
The MAC Paint, $16.50 for a 6.5g tube. Okay so it's not meant to be an eyeshadow primer. But it still works great as one, even better than the popular Urban Decay Eyeshadow Primer Potion! I use it in Bare Canvas, which matches my skintone perfectly. My eye makeup stays put for 18 hours straight with no creasing whatsoever. And although it's a tiny tube, mine has lasted more than 8 months with daily use.
My Favorite Eyeliner:
The MAC Liquidlast Liner, $16.50 for a 2.5ml tube. I swear up and down that this is the best long-lasting eyeliner out there. It even stays put after you wash your face! I've tried all other long-lasting eyeliners, even the Bobbi Brown Long-Wear Gel Eyeliner that my friends love so much, but even that smudged at the end of the day. The only bad thing about this liquid liner is that the brush that is part of the packaging kinda sucks – it's too long and flimsy. So I use the MAC 266 Small Angle Brush to appy it. And, as with all liquid liners, you need a very steady hand.
What are your favorite beauty products? Also, I still haven't found THE mascara yet….what do you recommend?
You may also like: