Today's guest post comes from one of my favorite food bloggers, Amy. While J and I have been very fortunate in that our mothers have been cooking up a storm for us since the arrival of the baby, we would most likely have gone the freezer route if the grandmothers weren't so readily available (or willing!). Enjoy!
---
Hi, I'm Amy, and I write for my food blog called The Nifty Foodie. I love cooking and baking, but I also understand that most of us just do not enjoy slaving over a stove for a meal every single night, and for that reason, I wanted to tell you about one of the neatest assets available to you in your kitchen: the freezer.
You might think of your freezer as your ice cream haven or a spot to store those TV dinners. (Trust me, I do too.) However, as I've grown to love cooking, I've realized my freezer is quickly becoming one of my greatest assets in the kitchen.
You can totally make the majority of your meals and store them in the freezer to be used weeks, or even, months later! This works out well for new moms, who just don't have time to stand over a stove for almost an hour, or even for those who would rather their precious time to relax in the evenings after a long day at work! All of the preparation takes maybe a few hours on a Sunday, resulting in easy, quick and delicious meals for every night of the week!
Another awesome thing to use the freezer for is baked goods. In my situation, it's just me and the hubs. We don't need a whole cake, a batch of cookies or 24 dinner rolls, but I love to bake! You can easily freeze cookie dough, cake batter and bread dough (after the first rising) and then thaw a few hours in the fridge before you're ready to bake! Convenient and much more waist friendly, no?
As far as storage goes, there are tons of great ways to store your food. The hubs and I own a Foodsaver, which has easily paid for itself in the past years (just based on buying meat in bulk and packaging into portions for two). However, if you aren't up for buying another appliance, ziploc freezer bags work well.
When storing in freezer bags, the key is to get the food as flat/stackable as possible. You'd be surprised how much you can store once you get things flat. I do this by placing bags on a cookie sheet and letting them set/freeze for a couple of hours.
For casseroles and such, you can purchase the disposable aluminum pans and store in those. Our local dollar store has many sizes available, and are way cheaper than what regular grocery stores charge for them. You can also purchase the disposable plastic containers, and store food in those. Just make sure they say that they list that they are freezer safe.
For some great freezer friendly recipes and ideas/tips, check out some of these sites:
http://joelens.blogspot.com/2007/01/freezer-friendlymake-ahead.html
http://allrecipes.com/HowTo/Freezing-Foods-A-Real-Time-Saver/Detail.aspx
http://www.southernliving.com/food/whats-for-supper/easy-freezer-meals-00400000009133/
http://www.foodnetwork.com/quick-and-easy/freezer-friendly-recipes/index.html
I hope you decide to give freezer meals a chance. You will find that your weeks are much, much easier with ready-made meals and expensive take-out will be much less tempting as well!
---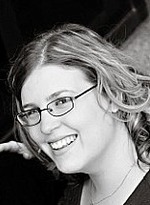 About the Author:
I'm Amy, and I'm a Martha wannabe from Louisiana. I enjoy cooking, baking, crafts and gardening. I also have a slight obsession with LSU football. 🙂 You can find my food adventures here: http://www.theniftyfoodie.com/food/ and my life adventures here: http://www.theniftyfoodie.com/life/.
You may also like: