On my way back from Montréal, I was detained at the U.S.-Canadian border for the transportation of contraband items across international lines. I was subjected to a full-body search, a background check, and a lengthy interrogation. Eventually, my family was forced to contact the U.S. embassy to plead for my release.
Just kidding. What really happened isn't quite as exciting: my coming down with the flu almost as soon as I returned home, J getting sick as soon as I started to recover, then my in-laws returning to China which means no help with the kids for the next five months or so.
It's been a tiring week.
Nonetheless…
Montréal was a blast! It was a weekend full of giggles, cheese (not the eating kind), grub (the eating kind), and drinks. Lots and lots of drinks. Oh, and as expected of most bachelorette parties, some naughtiness.  😛
I'm sorry to say that I won't be posting any (potentially) compromising pictures here. This is, after all, a public blog. However, I did want to share some of the more boring shots.
One of the first things I did after arriving at the hotel was look up the nearest Tim Hortons. I had discovered that one of my sister's friends is a fellow HIMYM fan, and it was kind of sad just how excited we both were about visiting a Tim Hortons. Luckily, Tim Hortons are just as prevalent in Montréal as Starbucks are in NY, so we only had to walk a couple of blocks.
I'm always fascinated by foreign currency whenever I travel — U.S. money is soooo boring — and Canada was no exception. The new $20 is made of a plastic-y material, and there are even see-through parts! (Later, I was to learn that most Canadians hate the new $20 because they tend to get stuck in machines.)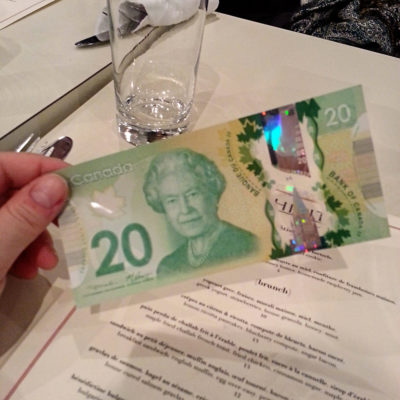 On our second day, I was able to meet up with this lovely lady and her adorable daughter. This picture does NOT do them justice — Kelly is gorgeous in real life with skin that is TDF. (Seriously, one of the first things I blurted out to her was, "Ohmigosh you're so pretty in person!") And her daughter Sienna is one of the happiest babies I've ever met.
I was understandably a bit hungover on my last day, and pho is one of my favorite hangover cures. Luckily, there was a Vietnamese restaurant within walking distance from our hotel. Their pho came in 3 sizes, and I decided to be badass and ordered the largest one.
I should have guessed how big it would be by the way the waitress' eyebrows shot up when I placed my order; it was HUGE! (TWSS!) Here, you can see how large the bowl is compared to my friend's hand. Needless to say, I was not able to finish my noodles.
What I returned home to. I missed these little boogers so much while I was away.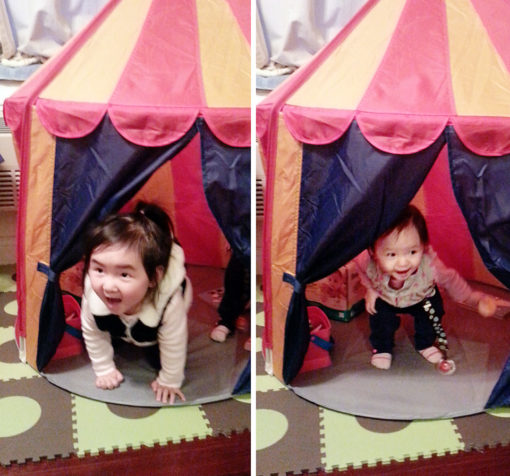 You may also like: