Harro there! Remember me? I've decided to ease back to this blogging thing with a contrived post that crams my life within the last month through pictures (many which my Facebook friends and/or Instagram followers have already seen) and captions.
Can you believe it's already been 3 weeks since Christmas? We kept it low-key again this year with a casual dinner at my parents'. My mother asked me to cook my famous 갈비찜 (kalbijiim, or braised short ribs) and while I was a bit nervous because I hadn't made it in over a year, it still turned out delish and I was proud of myself for not losing my touch.
The day after Christmas found me at King Spa. My mother had insisted on treating my sister and I, and while I've never been a big fan of 찜질방 (jjimjilbang , or Korean bathhouses/spas) — I always have trouble just letting go and relaxing — I had a fantastic time sweating, destressing, and gorging on snacks.
Just a few days later, I hopped on a plane…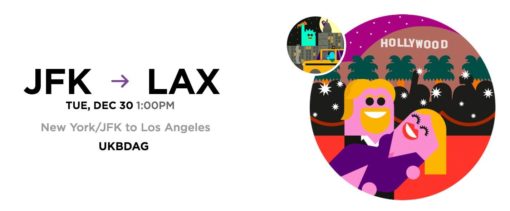 How cute is this confirmation I received from Virgin after checking in for my flight?
For an 8-day vacation in LA! The purpose of the trip was for a cousin's wedding, and while the original plan was for everyone to go and have the girls experience their first trip to Disneyland, the holiday airline fares were killer. And since I had visited LA the past two winters too, I decided to take this opportunity for a third annual solo vacation among friends and family.
(Thanks, C, for letting me crash at your place again! And I know you're reading this!  😉 )
And you guys, I had such a fabulous time in LA. I am so thankful for J and his parents who allowed me to take this solo trip, for my family out in the west coast (I always forget that I have such a large extended family out there!) as well as those who were visiting from Korea for reminding me how awesome my relatives are, and my friends for taking time out of their busy schedules to meet up with me, drive me around, and feed me ridiculous amounts of yummy grub. (I swear I gained like 5 lbs from this trip.)

At the wedding with family who were visiting from Korea.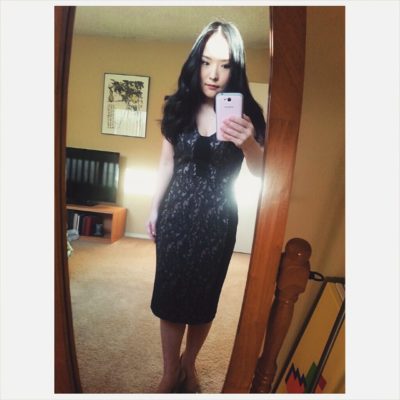 First time getting dressed up in ages. (Love my friend's mirror
for making me look thinner!  😉 )
I even got to meet with an old blogging friend I've admired for years: none other than the Broke-Ass Bride herself, Dana! We both confessed that we were nervous about our "blind date" — while we had talked online for years, we've never met in person before and people can have such different online personas, you know?
But my fears were completely unfounded, because Dana is friendlier and funnier than I ever imagined. We hit it off immediately and I had a wonderful time cooking (I taught her how to make my famous kalbijiim and her Korean husband who has eaten at many famous eateries agreed that it's the best kalbijiim he's ever tasted 😀 ) and hanging out with her.

This picture doesn't do her justice — Dana is GORGEOUS in real life!
I also got to sneak in a coffee break with Hellobee's Mrs. Pencil, whom I've known since her days in NY many many years ago. It's so strange to think that the last time I saw her (on my last trip to LA almost exactly a year ago), she was pregnant with her son and this time, he was a real life human being who is gurgling, drooling, grabbing, and just straight-up lovable. 🙂  You'd think I wouldn't have these thoughts seeing as I'm a mother of 2, but this little boy was so well-behaved and charming that I couldn't help it!

Look at that smile! Look at those cheeks! He was sick with his first
cold but once I worked my magic on him, he became a giggling,
gurgling little guy. 😀
And of course hanging out with my friends' cute babies made me miss Claire & Aerin even more. One of my favorite days in LA was on New Year's Day, as I hung out with my friend C (whose place where I was staying) on the couch all day, pigging out on junk food while gossiping and watching Friends (I'm sure everyone with Netflix was watching that show when it debuted on Jan 1!) and 슈퍼맨이 돌아왔다 (Return of Superman, a Korean reality show). I hadn't watched this show in ages, so Song Il-kook's triplets completely won me over and made me miss my girls so much.

Daehan, Mingook, and Manseh wish you a happy new year.
I need to start watching this show again!

Sometimes, a little time away from mommy is a good thing.
Everyone agrees that the girls have become closer to J and their
grandparents during my time away.
One last good and one bad. On December 31st, 2014, I was greeted by this message after I finished my daily devotional:
I had started the One Year Bible plan at the beginning of 2014. (It's a reading plan that includes a passage from the Old Testament, a passage from the New Testament, verses from Psalms, and verses from Proverbs every day, divided so that you can read the entire Bible in one year. It actually goes through the book of Psalms twice.) Although I think I've read the Bible in its entirety at least once in my life, I could never say that with certainty…until now.
And I learned sooo much from the One Year Bible plan, especially in the connections between the Old and New Testaments — even through seemingly mundane subjects such as genealogy!
Needless to say, I was very proud of myself for this little accomplishment. I think it's the first new years resolution I kept throughout an entire year. 🙂
The negative note with which I'll end this post may be funny to some: on January 3rd, 2015, I felt my very first earthquake…AND I FREAKED OUT. 😳  The earthquake was a small one by LA standards — a 4.5 which was later downgraded to 4.2 — but it was large enough to make me lose my balance and hear things falling from the apartment upstairs.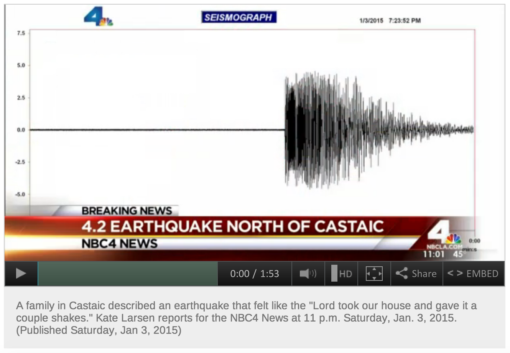 (source: NBC Southern California)
I immediately texted some friends in the area, and while some were sympathetic/supportive, all of them found it hilarious that I was making such a big deal of it. 👿  Look, people. If you felt your very first earthquake at the age of 34, wouldn't you be freaking out too?!?? I mean, a solid ground is something you come to expect without any given thought, y'know?
(I am reminded of the 2011 east coast earthquake and how my west coast friends reacted to that. Remember my response? 😛 )
I got very little sleep that night because I was so shaken. (My friend was away for the night, so I was all alone at her place.) I ended up wrapping myself with a blanket, curled up on the floor in the corner of the room, tried to watch shows on Netflix in order to try to distract myself but failed, and ended up falling asleep only after singing praise songs to myself to gain some courage.
Yeah, yeah…you can laugh at me too.  🙄 
You may also like: