On the first day of fifth grade, Mr. Jay Cutler introduced himself as our English teacher for the rest of the school year.
He then promised us that he would walk across the classroom on his hands whenever the entire class completed their homework.
"You may think I'm lying, but I'm not," he told us. He then added with a wink, "The only question is…do I really know how to walk on my hands, or will I waste an entire class trying to walk across the classroom on my hands?"
(He really did know how to walk on his hands. Unfortunately, our class only witnessed the event twice during the school year.  🙁 )
Mr. Cutler was young — probably in his late twenties at the time — and hip. He was also cool. His hair was unkempt, his goatee reminiscent of Ed Norton, and while he always always wore a tie, he kept the top button of his shirt undone and his tie knot precariously hanging just beneath.
Many of my classmates, myself included, had schoolgirl crushes on him. But we kept ourselves at a safe distance, intimidated by the picture of his gorgeous wife that was prominently displayed on his desk. (And none of us could picture him with anyone but a beautiful, intelligent, and charming woman.)
It was not only his demeanor and looks that made Mr. Cutler a favorite among students. He was a jokester and prankster, but knew when to take things seriously. He made THE best analogies and examples — often humorous ones — that helped even the dullest of us understand (then) mind-boggling concepts such as irony, metaphors, and conflicts.
He even created an alter ego based on his favorite fruit, the grape, and used him quite often in all his examples. Once, when a classmate brought in the then-popular board game The Grape Escape, he (pretend) angrily told us that he would write a complaint letter to Parker Brothers for cruelty to grapes. (And the following week, as he gave a lesson on how to properly write a business letter, he used that letter as an example. 

)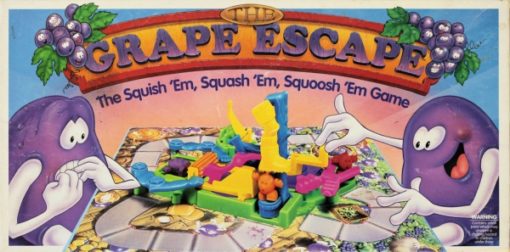 I still often wonder what had become of Mr. Cutler. Did he continue teaching elementary-level English? Did he win any teaching awards? Does he know how much of a positive impact he had on the hundreds of students who were lucky enough to have him as a teacher?
I have tried a few times to look him up, but his common name makes this a difficult task.
What I do know is that while I have trouble recalling the names of the majority of my high school teachers — heck, I can hardly remember my college professors either — and many of my lessons with them remain foggy, I still remember minute details about my favorite teacher and his teachings, almost twenty years later.
Good teachers provide knowledge that stays with us for the rest of our lives. Great teachers inspire us to learn, and to cultivate what we have learned. And Mr. Cutler was exactly that: a great teacher.
Do you have a favorite teacher who has made a memorable impact on your life? Someone whom you still look back on with fond memories and often wonder what has become of him/her?
You may also like: