Last year, I found out about the White Castle Valentine's Day Dinners.
Participating White Castles take reservations for this event. You are greeted at the door by a host/hostess dressed to the nines, who will escort you to your tablecloth-covered, candlelit table.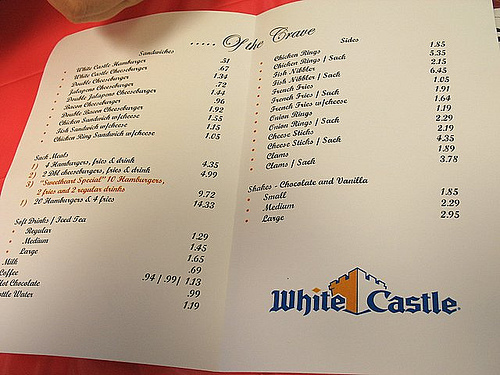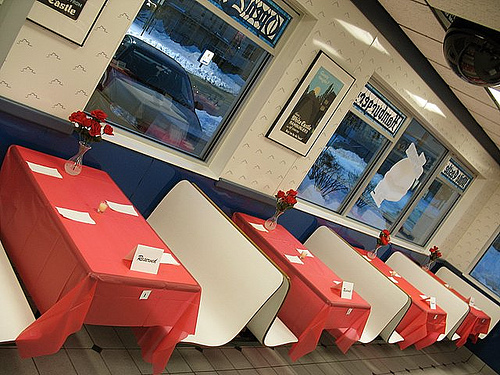 (Pictures from Off The Broiler)
It was perfect for us! We immediately made reservations and eagerly awaited our date.
However, mother nature had other plans for us – a horrible snowstorm kept us from scarfing down those delectable mini burgers and the inevitable stomachache that follows soonafter.
With our first Valentine's Day as a married couple less than a month away, we had been looking forward to making reservations at our local White Castle once again.
Then we realized that this year's Valentine's Day will fall during our week-long visit to Los Angeles.
Where there is no White Castle.
Needless to say I was severely disappointed. Then J made a suggestion that made me look forward to February 14th with glee.
"Why don't we go to In-and-Out?"
J and I LOVE In-and-Out! We are forever lifting our fists at the powers-that-be for not opening a restaurant here on the east coast. As a result we always gorge on the stuff whenever we venture out west.
So it's settled. We will be happily celebrating this year's Valentine's Day at In-and-Out.
Now if only they served beer at In-and-Out…
You may also like: