Ed note: When this post was published earlier today, it somehow published a version without the Rafflecopter widget and instructions on how to enter the giveaway. 🙁  I have no idea what happened, and I apologize for the mistake. Here is the correct version.
---
Your kids will be smart enough to know that A is for apple and Z is for zebra…why not broaden their horizons a little? And while you're at it, why not add a geeky twist?
My Little Geek will allow you to do just that. This kid-friendly board book will certainly help adult geeks teach the ways of geekdom to their little ones, from "Android to Zombies." Written by Andrew & Sarah Spear, and illustrated by Edit Sliacka, My Little Geek is full of wonderfully adorable pictures and nerdy concepts that is sure to expose your children to the amazing world of geeks.
When Sarah contacted me about giving away a copy of My Little Geek on this blog — and offered a complimentary copy for review purposes! — I did a little jig in joy. Because when I first read about this book a few months ago, I had immediately pinned it to my "Wishlist" board on Pinterest, and added it to my Amazon wishlist…I felt like Santa had come a whole 9 months early!
As soon as I received the book, I presented it to my little Claire and she immediately sat down with it. My book-loving daughter flipped through the pages as I pointed out each letter and its corresponding geekery…I could practically see her soaking up all the smart, fun, and exciting things represented on each page! (I only wish I had a picture of her reading the book, but she is too much like her parents in loving gadgets that we can't bring out a camera these days without her immediately stopping what she is doing to repeatedly ask for the camera.)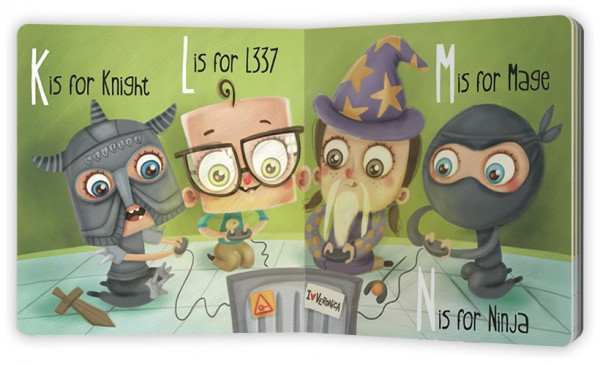 As you can see, each wonderfully illustrated page is the perfect mix of cute and geeky. There are even little easter eggs placed throughout the book that it is sooo much more than just an alphabet book. (In the KLMN spread above, you can see the Nerdist symbol and "I ♥ Veronica" sticker.)
My Little Geek is available at ThinkGeek for $19.95. A small price to pay to hear "your young one chatting away about his holographic ninja or time traveling joystick," if you ask me. 😉 And if you want to play interactive games with your toddler in the theme of My Little Geek, you can download the corresponding My Little Geek Matching Game app for the iPad!
Now, for the giveaway…
One lucky reader will win his or her own copy of "My Little Geek"!
To enter this giveaway, simply use the Rafflecopter widget below. Not sure how to use Rafflecopter? Watch this 52 second video for a tutorial on how to enter a giveaway using Rafflecopter. There are 4 methods of entry, with the first method (commenting on this blog post) being mandatory while the third method (Tweeting about the giveaway) can be used once per day:
This giveaway will end on Thursday, March 29th, 2012, at 12:01am, at which point a winner will be randomly chosen and announced here.
Please use a valid email address and/or Twitter handle so that I can contact you if you win!
Sorry, this giveaway is open only to residents of the United States.
Good luck, and thank you for entering!
You may also like: