Update: This giveaway is now closed. Congratulations to Di, who entered via the comments section below!
---
I will be the first to admit that I am not always a socially-conscious shopper — while I do my best to support local businesses, I hardly ever really hold a newly purchased product in my hands, wondering about the hands that touched it before me.
But whenever I do hear about some of the horror stories behind mass-produced items, I cringe inside and become even more determined to lend my hand (and money) to small businesses and individuals whose products were not only were created with love and passion, but who also rely on the money made from these items.
So when NOVICA first contacted me about a giveaway on my blog, I became very intrigued. You see, NOVICA is a leading fair trade artisan website, working with National Geographic to "offer talented artisans around the world a place to express their artistic talents online and provide access to the world market." In other words, they not only provide a forum for these artisans to sell their goods worldwide, but also to connect people together to improve lives and help preserve traditional arts and crafts in other countries.
The site offers a wide variety of products — everything from home decor, jewelry and apparel, to paintings and even musical instruments! You can search by category or you can use one of their specialized searches like "Gifts for the Animal Lover" and "Wine & Cocktail Enthusiast".
Each item that is available for purchase has in its description the name of the artisan and country, along with their photo, story, and even a quote. When you register for a (free) myNOVICA account, you can save specific products or artists to your 'Favorites.' You can also choose enter a photo, description, and other general information about yourself so the artisans can find out more about who is purchasing their products — you can even upload photos of the products you've purchased and how you are use them!
NOVICA also hosts a microfinance program which helps artisans around the world to enhance their craft and expand their market by offering them 0% interest loans. Additionally, it has also recently launched a new home party division called NOVICA Live, where Consultants can showcase beautiful gifts and jewelry through home parties in an entertaining way, while supporting artisans worldwide. Because it is a fairly new program, there are tons of promotions going on for early Consultants, including a trip to Bali for anyone who becomes a Director this year!
NOVICA generously offered me a $75 gift card to choose an item for myself, and I decided to go with the 'Frangipani Garden' Ceramic Tea Set, which is no longer available on their website. But don't worry — here are some pictures I took of this gorgeous tea set!
Hand-made by the ceramic artist Putu Oka Mahendra, this tea set hails all the way from Bali. I love the single frangipani blossom detail on each of the pieces.
As is the case with all NOVICA purchases, my tea set came complete with an artisan story card in addition to a little personal note.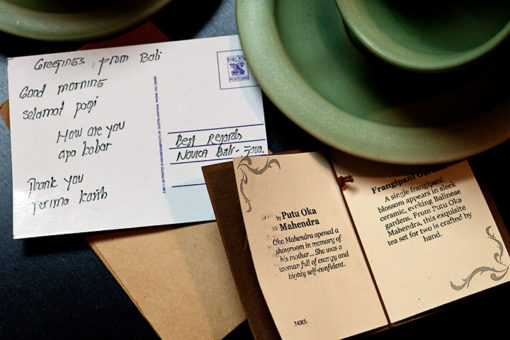 Here's another shot of the set:
J's family, being Chinese, is VERY into their tea and are pretty much tea snobs. 🙄 I'm happy to say that this tea set passed their inspection with flying colors. Additionally, I've always had trouble drinking tea from the traditional Chinese tea cups without handles due to the hot temperature of the tea…I know that the handles on these cups — aside from being simply gorgeous — will serve me well!
Now, for the part you've been waiting for: the giveaway!
NOVICA has offered to give one of my readers a $75 gift card!
Would you like to purchase for yourself or a friend one of the many amazing items at NOVICA.com? AND support a talented artisan while you're at it?
If so, here are the rules…
Each reader is eligible for up to three entries via the following methods (each method will grant a separate entry):
Leave a comment to this post about how you would spend the NOVICA gift card.
If you haven't done so already, go to the Geek in Heels Facebook Page and "Like" the page. Then click on the NOVICA Gift Card Giveaway link (located right under the profile picture, or just use this link) to enter the sweepstakes.
If you haven't done so already, follow @geekinheels on Twitter and tweet exactly the following: 

I just entered for a chance to win a $75 NOVICA gift card via @geekinheels at http://bit.ly/qUWzSx and you can too!
Please do not leave extra comments here if you enter via Facebook or Twitter.
You can increase your chances of winning by using all three methods of entry. There is only one entry allowed per person, per method  — for a total possible number of three entries — and any additional entries will be promptly deleted. (Yes, I have ways of checking this. And yes, this will only cause me to get annoyed at you.)
For the complete list of rules, go to this link.
The giveaway begins as soon as this entry is published — September 23, 2011 @ 12:00pm EDT — and will run until September 30, 2011 @ 11:59pm EDT. The winner will be announced here on October 1 and will also be notified by email (so please use a valid email when entering so that I can contact you if you win!) or via a Twititer DM.
Good luck, and thanks for reading! (I love giveaways, don't you? 
 )
You may also like: