Who wouldn't want to live in a beautifully-decorated home?
While many of us would like to think that we have a good eye for home décor, the truth of the matter is that not all of us do.
Or, we may just not have the money, time, or resources to seek out the pieces we'd like adorning our homes.
(Personally, I would love to hire an interior designer, but I know that I can't afford one…nevermind the additional research I'd have to do to even find a decorator!)
And how about those of us who get sick of looking at the same stuff every day and crave consistent change?
Well, I have good news for you. Check out Bedly, a new company that aims to redefine interior design services.
Signing up for Bedly is simple. After taking a 3-minute quiz to determine your needs, tastes, and budget, a decorator will personally pick a home décor item based on your preferences and send it in a Bedly Box every month. The items you receive include accent pillows, wall art, decorative accessories, and much, much more.
The price for this amazing, convenient service? A mere $19.99/month! (Shipping included!)
And that's not all — as a Bedly member, you also receive members-only exclusive benefits such as discounts to the Bedly store, tips from experts, and access to giveaways and contests!
Bedly has generously offered to give away a Bedly Box to one of my readers. The items included are: an accent pillow, an owl doorstop, a rattan box for pencils and knick knacks, and a candle holder.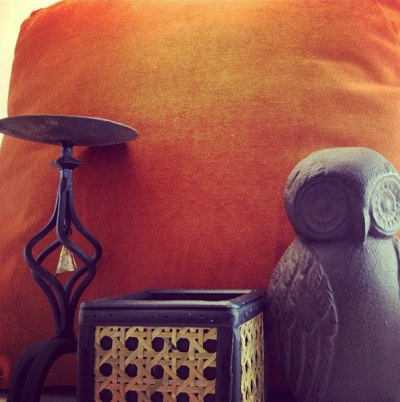 To enter this giveaway, simply use the Rafflecopter widget below. Not sure how to use Rafflecopter? Watch this 52 second video for a tutorial on how to enter a giveaway using Rafflecopter. There are 2 methods of entry: (1) become a fan of Bedly on Facebook; and (2) sign up for the Bedly Newsletter, which will gain you an additional 4 entries!
This giveaway will end on Thursday, October 11th, 2012, at 12:01am, at which point a winner will be randomly chosen and announced here.
Please use a valid email address and/or Twitter handle so that I can contact you if you win!
Sorry, this giveaway is open only to residents of the United States.
Good luck, and thank you for entering!
You may also like: