My husband is not a very observant person.
He hardly takes notice when I rearrange things around the house. He regularly misses stains and tears on the girls' clothes. And I can't remember if he's ever acknowledged a new haircut on me — not even the time I chopped off 5 inches!
So when he told me earlier this week that my face was "glowing," I knew I had a winning foundation in my hands.
Correction: complexion perfector. Because, according to Linda Cantello, International Make-up Artist for Giorgio Armani Cosmetics,
It's not a foundation; it's a complexion perfector. A whole new generation of make-up that feels incredible, looks invisible and makes skin appear luminous every time. Anyone can wear it.
Yes, I am talking about the newest "it" beauty product — one that has had makeup blogs abuzz with anticipation since it was first announced two months ago.
The Giorgio Armani Maestro Fusion Makeup.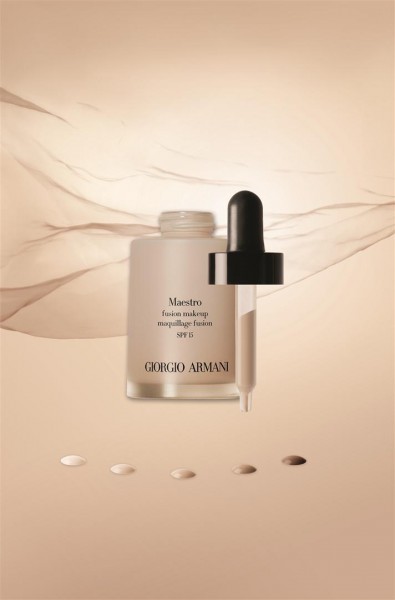 The luxury fashion brand spent eight years researching the formula for this foundation, with the aim of making the Maestro unlike any other makeup on the market today. While most foundations are made up of roughly 20% water and 80% oil (in addition to trace amounts of pigment and powder), this new product uses 60% dry oils and 11% highly-concentrated, "smart" pigments; the patented Fusion Technology enables the foundation to adapt to the wearer's natural skin tone, rather than adding color on top of it.
The secret behind the forumla is five volatile, semi-volatile, and non-volatile oils that each evaporate at different rates, giving maximum color and moisture to the wearer's skin throughout the day. These five oils were selected from a group of 100 that the brand evaluated closely for top volatility, nutrition, and blending elements, to ensure optimal results and versatility.
If the word "oil" gives you visions of slippery, pore-clogging gunk, don't fret. The Maestro is entirely non-comedogenic and doesn't feel oily in the least. One reviewer likened it to dry oil that immediately sinks into your skin, leaving it nourished and soft, and she's right!
As you can see from the promotional pictures above, the Maestro Fusion Makeup comes in a glass bottle with a dropper. I believe the dropper serves two purposes: the first, to help keep the makeup pure and free from contamination; and two, to best dispense of the very fluid and water-like mixture. In fact, the formula seems so runny that I had doubts that it could cover anything, but as you will see below, I was wrong!
The directions state that you should shake the bottle before use, and this seems to be a very important step in ensuring all the pigments and oils are properly blended before application. Another tip I've read is that before shaking, you should squeeze the top of the dropper so that whatever makeup is in the dropper gets mixed too.
A word of caution: although the makeup is very runny, you only need a few drops to cover your entire face. I've read one reviewer say that she only needs one drop for her entire face, but the general consensus seems to be 3-4 drops.
I place 3 drops onto the tip of one finger, and blend it into my skin using my fingers. There is no need for a makeup brush — I've actually read that most women get the best results with their bare hands!
If I feel that I need additional coverage anywhere, I simply wait a few seconds for the makeup to dry, then blend another drop or two over those areas.
The end result is matte but luminous. The finish is so light and natural that I don't feel like I have makeup on at all. (I know that numerous foundations claim this, but this is the very first time that I've found it to be true!) In fact, my skin feels softer and actually better with the Maestro on — it feels exactly like my bare skin, but more nourished and supple, while looking soft and airbrushed!
Now I know you're all dying for some "before" and "after" photos, so here they are. I hate publishing pictures of myself with a bare face, but in this case, I know that seeing the difference will be worth it!
(These photos have not been edited except for some minor color and light adjustments, as the "before" picture was taken while the sun was hidden behind a thick layer of clouds…hence the extra noise!)
Before the Maestro Fusion Makeup:

After the Maestro Fusion Makeup:

Can you believe it? This is ONLY with the Maestro added — no concealer, blush, or anything else!
As you can see, the Maestro delivers a "perfected" version of my natural skin. Click on the "after" picture to see a larger version — you can see the texture of my skin still coming through! (Please excuse the little beads of sweat on the side of my nose.) My skin looks soft, glowy, and perfectly airbrushed without that fake, masked-on look.
The best part? Because the oils continue to evaporate and react to your skin chemistry for hours after the first application, your skin keeps getting better and BETTER with time! In fact, my face looks a bit better now, 5 hours after I first put on the makeup…no joke! And when J told me that my face was "glowing"? It was after I had been wearing the stuff for almost 12 hours! (Without ANY touchup!)
The Giorgio Armani Maestro Fusion Makeup is available in 12 shades in the U.S., and 9 in the rest of the world. The shade that I use is 4.5, which is a light beige with yellow undertones.
For pictures of ALL the shades in different lighting (including descriptions of all the shades), check out this awesome post on Beauty Professor!
The Maestro is not exactly budget-friendly at $62 a bottle, but I really do believe the cost is worth the money! Besides, I'm sure it will last a looong time when you consider the fact that you only need a few drops at a time.
Do you have any questions about the Giorgio Armani Maestro Fusion Makeup? Please leave a comment below, and I'll try my best to give you an honest response!
Have you tried the Maestro? What are your feelings on it?
You may also like: