A couple of weeks ago I noticed an unusual amount of hair lying around the house.
Note that I am always "shedding" a lot of hair — one of my ex-boyfriends used to say that he could always tell which rooms I have been in just by looking at the hair on the ground — so imagine just how much more hair there must be for me to become concerned.
My post-partum hair loss had started.
I had read that some women's hair can fall out in clumps, and that's exactly what has been happening to me. Chunks of matted hair on my pillow. A mangled mess in the bathroom drain. And hair everywhere on the floor.
I keep my hair up in a tight bun when I am home and there is still hair everywhere. It has gotten to a point where I vacuum twice a day because the amount of hair on the floor and on the couch disgusts me.
I have found that the hair loss isn't quite as bothersome if I blow-dry my hair right after showering. This way, I can get out the majority of the hair in one go — whereas if I let my hair air-dry, which I used to do before this debacle, my hair will fall out gradually all over the house.
And for those who may be thinking, 'It can't be THAT bad. She must be exaggerating,' here's a picture of the amount of hair that was on the floor this morning after blow-drying my hair (and I didn't even use a brush!):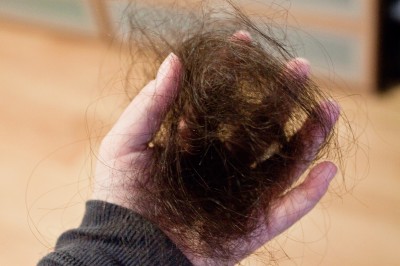 My friend Kelly  wrote about a product that has helped her with her post-partum hair loss — the Redken Extremé Anti-Snap leave-in treatment. I usually don't like using products in my hair but I may have to get a bottle to avoid going bald. I also plan to start taking prenatal vitamins again because my nails have been a complete mess too.
I always tell my friends that the only thing I miss about being pregnant is being able to feel my baby move inside of me. Now I have two others to add to the list: thick, luscious hair and strong, healthy nails.
---
You may have noticed that I have gone back to my old blog design. After a couple of weeks with the new design, I decided that it just wasn't me and found myself missing my old layout.
Although I've been comfortable working with WordPress in the past, I have learned a lot re-creating my old Squarespace design as a WordPress theme. As such, I am thinking of doing a series of posts on WordPress theme design and development…in simple layman terms and using lots of screenshots. However, I know that this would be VERY time-consuming, so I would only do it if there is enough interest.
Would any of my readers benefit from my writing some tutorial posts on how to get certain things to look the way you want in WordPress?
You may also like: