With Halloween just around the corner, I recently developed a hankering for a scary book to re-read.
(Notice I said "re-read" — this is because my pregnant brain can't handle anything new at the moment…doh!)
Sure, I could go for a classic like The Shining, or even my tried-and-true favorite horror novel, The Season of Passage. But I suddenly found myself waxing nostalgic for shorter, simpler tales from my childhood…
Enter The Scary Stories Trio.
If you grew up in the U.S. during the 80s and 90s as I have, there is a very good chance that these covers will bring back some memories.
There is also a very good chance that you were forbidden to read these books, as they were the most frequently challenged book for library banning from 1990-1999. (This fact comes as news to me. Did you know?)
The Scary Stories Trio consists of three books: Scary Stories to Tell in the Dark; More Scary Stories to Tell in the Dark; and Scary Stories 3: More Tales to Chill Your Bones. They are a collection of spooky folk tales and urband legends that author Alvin Schwartz has compiled for the younger crowd.
But perhaps the most memorable part of the Scary Stories Trio is not the stories themselves, but the fantastically grotesque and creepy illustrations that went along with them. Illustrator Stephen Gammell did one heckuva job carefully constructing each drawing to be completely horrifying and thoroughly memorable. For example, I have never been able to look at small hairless dogs the same way again after reading, and having the following image, burned into my mind: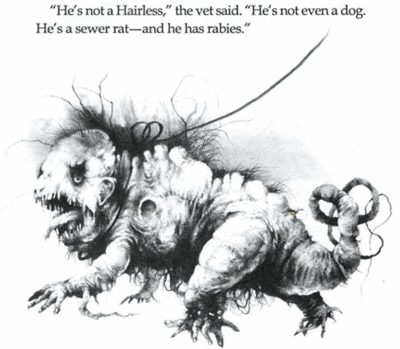 And how about this lovely gem? I remember completely losing my sh*t the first time I turned the page to find this ghoul staring back at me: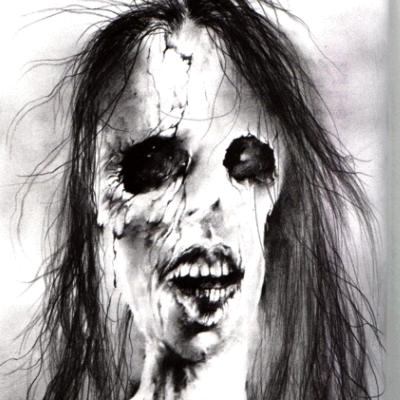 Unfortunately, the heartless bastards over at HarperCollins have decided to re-print the Scary Stories Trio with the works of a new illustrator, Brett Helquist. I am sure that Mr. Helquist is a great illustrator, but do these covers even compare to the originals?
I have read that one of the reasons there was such a push to ban the original books was due to the terrifying drawings…so perhaps HarperCollins was trying to appeal to today's bubble-wrap generation by re-printing the books with less frightening pictures?
I'm sorry, but that is a big fat epic FAIL in my opinion. Children are so much more resilient than we give them credit for. Sure, I may have been frightened by the original Scary Tales Trio, but that's what made them so fun and memorable! And I would certainly not be opposed to my kids reading the same exact books in late elementary school, which is the age when I first became introduced to these books.
The good news is that there remain retailers who are still selling the original print of the Scary Tales Trio. Such as this seller who has available the boxed set, in new condition, for just $25. I have actually just bought the trilogy myself, because I don't know what happened to my old, dog-eared copies of the books.
Do you remember the Scary Stories Trio from your childhood? Which were your favorite stories and illustrations?
Was the Scary Stories Trio banned from your school or library?
You may also like: