There are two fears that haunt me every day as I move in, out, and about NYC.
The first are subway and sidewalk grates.
I hate walking over grates. There are the obvious reasons, such as my heels getting stuck in them or the fear of treating passerbys to a Marilyn Monroe moment whenever I don a skirt or a dress. However, the main reason I fear grates is because I'm scared that one will fall out from under me.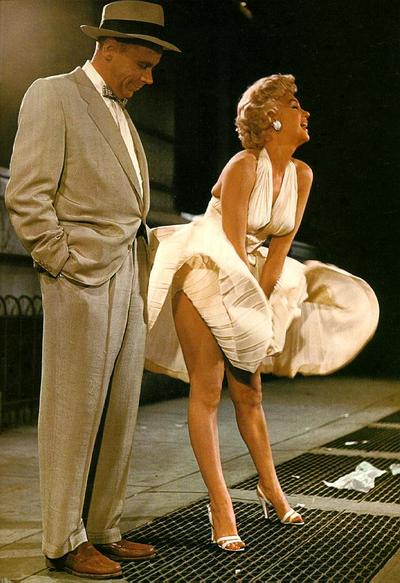 Unfortunately, I possess neither the grace nor coordination to position my heels
like Ms. Monroe in this famous movie scene. And when my skirt blows up,
I tend to resemble a panicked duck. (image via StrangeCelebrities)
Friends would always scoff at this phobia, pointing to the millions of people who walk over grates every day with no problem. However, my fears were realized when not one but TWO instances of falling grates were reported this year alone.
The second fear involves tunnels.
After making the move to NJ, I officially became part of the "Bridge and Tunnel" crowd. And I've always had terrifying nightmares about terrorists bombing a crowded tunnel.
Think about all the tunnels going in and out of the city. Holland. Lincoln. Midtown. Not to mention all the tunnels used by the NJTransit, Amtrak, and PATH trains.
If I were a terrorist, I would definitely hit up one of these tunnels. Security is so lax that it would be like taking candy from a baby.
And on a personal note, I would rather be on a bridge than in a tunnel. Escaping from a bombed bridge would be easier than trying to swim out from a destroyed tunnel, no?
Last Friday, I and thousands of other commuters were subject to massive delays due to "police activity" on I-495, which is the interstate highway that sits directly outside of the Lincoln Tunnel.

See all the buses lined up at the entrance to the tunnel?
I wasn't even there – I was still at Port Authority! (image via MyFox New York)
I was pissed, because not only did NJTransit fail to inform its passengers the reason for the delay (we found out through our cell phones), I was stuck on a bus for 2+ hours while they refused to let us off to take alternate means of transportation…while we were only 10 ft away from the gate where we had entered the bus.
The reason for this delay were two Snapple bottles filled with "suspicious" material.
Today's Gothamist shines another light on the issue: considering that suspicious bottles were left by the Lincoln Tunnel four times in the past five weeks, is someone trying to test the Lincoln Tunnel and the Port Authority police?
Paul Nunziato of the Port Authority police union is quoted:
"I would say they're studying what's going on at the tunnel. Because
they've been able to do it, 7 bottles placed on one of the busiest
roadways in the world and no one sees them no one caught an eye on
them, including the cameras."
The New York Post dubs the perp "Lincoln Lunatic."
Because it would be one thing for bottles to be haplessly left by the road, but it is quite another for them to be fastened to entrances, lamp posts, etc.
Scary stuff.
Will my second fear come into realization in the upcoming months?
You may also like: