Sony announced a new Reader Digital Book last week. What sets the PRS-700 from the popular Amazon Kindle is that it has a touchscreen (for easy highlighting and annotating) and the ability to read in landscape mode.

(images from the PRS-700 press release)
The very next day, pictures of the Amazon Kindle 2 made its way to The Boy Genius Report. (What impeccible timing! Did Amazon "accidentally" release the photos?)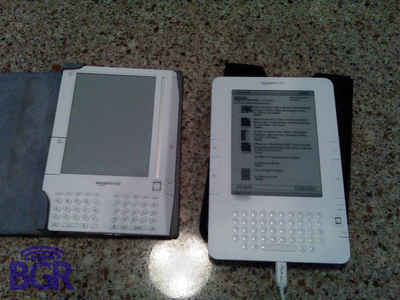 Me rikey the new design!
As much as analysts tout e-readers as "the next generation of books," I'm still not sold. Don't get me wrong – I love technology and new gadgets. I've seen the Kindle live, in action, and think it's pretty dope.
However, nothing can replace the tactile feel of a book. The dry rustling pages between your fingers. The rich texture of leather-bound copies. The smell of newly inked books. The smell of old, musty books. The sharp pain across your fingertips as you mishandle a book and receive a paper cut (sorry, I had to throw that in there because I'm such a klutz).
What do you think? Will books soon become obsolete in your life?
You may also like: